"Cuddly Koalas" is sung to the tune of "Frere Jacques"...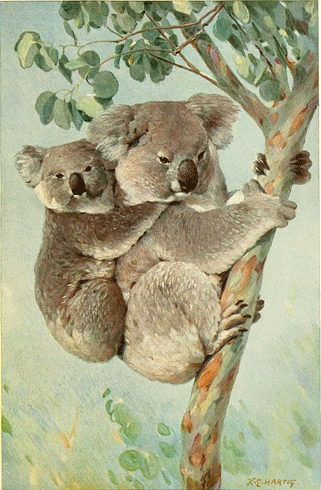 1. Cuddly Koalas,
Cuddly Koalas.
2. Possums, too,
Possums, too.
3. Wallabies and Wombats,
Wallabies and Wombats.
4. Kangaroos,
Kangaroos.

Notes
This song is popular among the Australian Girl Guides and Girl Scouts. Little kids like it too!
Game Instructions
1. Hug yourself and move your torso left and right.
2. Make a circle on both hands with your thumb and index finger and put them up to your eyes (like opossum eyes).
3. Roll your hands over each other.
4. Mime jumping with your hands in front of you like a kangaroo.


The girl in the video below adds the following lyrics and actions:

Elephants
(Action : Mime a swinging elephant trunk with your arm.)
And crocodiles
(Action: Mime a snapping crocodile jaw with both arms.)
Monkeys too, monkeys too!
(Action: Itch under your left arm with your left hand like a monkey. Repeat on the right side.)