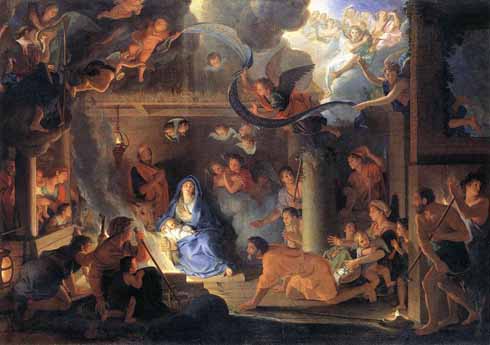 Sa stábla, sa mháinséar
In The Stable, In The Manger
Christmas Carol
Christmas Carol
Sa stábla, sa mháinséar, tá naíonán 'na luí,
An naíonán beag Íosa 'bhéas fós linn mar rí.
Tá réaltaí ag soilsiú go hard insan spéir,
Ar an leanbh beag Íosa ina luí sa mháinséar.

Tá ciúnas mór thimpeall; tá draíocht san aer!
Tá aoibhneas is áthas ar an domhan go léir.
Tá Aingil na bhFlaithis ag síor-mholadh Dé.
Ard-mholadh d'Íosa, don leanbh beag glé.

Bí linne, a Íosa; bí linne go deo.
Bí linne san oíche; bí linne sa ló.
Tabhair grá do do pháistí; tabhair grá dúinn go síor.
Agus bímis dílis; bímis dílis go fíor.
In the stable, in the manger, an infant is lying,
The little infant Jesus who will be our king.
There are stars shining high in the sky,
On the little baby Jesus lying in the manger.

There's great silence all around; magic is in the air!
There's blissful joy in the whole world.
Angels of heaven are in an eternal praise of God.
Praise of Jesus, the little bright child.

Be with us, Jesus; be with us forever.
Be with us in the night; be with us in the day.
Give love to your children; give us constant love.
And we'll be faithful; we'll be truly faithful.

Thanks and Acknowledgements
Image: "Nativity" by Charles Le Brun (1688).
Go raibh maith agat!