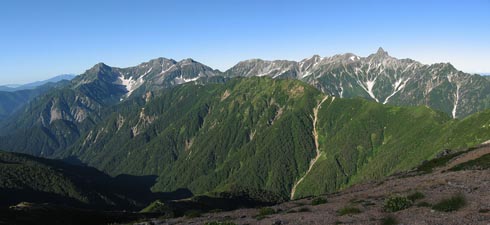 アルプス一万尺
10,000 Feet Up in the Alps (Long Version)
Children's Song
Children's Song
1
アルプス一万尺
小槍の上で
アルペン 踊り
を踊りましょう

ヘイ
ランラララ ララララ
ランラララ ラララ
ランラララ ララララ
ラララララ

2
お花畑で
昼寝をすれば
ちょうちょが
飛んできてキスをする

(ヘイ)

3
1万尺に
テントを張れば
星のランプに
手が届く

(ヘイ)

4
お花畑で
昼寝をすれば
かわいいあのこの
夢を見る

(ヘイ)

5
槍や穂高は
かくれて見えぬ
見えぬあたりが
槍穂高

(ヘイ)

6
槍はムコ殿
穂高はヨメご
中でりん気の
焼が岳

(ヘイ)

7
いのち捧げて
恋するものに
なぜか冷たい
岩の肌

(ヘイ)

8
岩魚釣る子に
山路聞けば
雲の彼方を
竿で指す

(ヘイ)

9
ザイルかついで
穂高の山へ
明日は男の
度胸試し

(ヘイ)

10
名残りつきない
大正池
またも見返す
穂高岳

(ヘイ)

11
まめで逢いましょ
また来年も
山で桜の
咲く頃に

(ヘイ)
1.
10,000 feet up in the Alps
On the peak of Mt. Koyari
Alpine dancing,
Shall we dance?

Chorus: Hay!
Lalalalalalala
Lalalalalala
Lalalalalalalala
Lalalalala

2.
In the field of flowers,
Taking a nap,
Butterflies come a-fluttering
To kiss.

(Chorus)

3.
On the top of 10,000 feet,
Pitching a tent,
The lamp of stars,
My hands reach up.

(Chorus)

4.
In the field of flowers
Taking a nap,
The loveliness of that girl
I see dreaming.

(Chorus)

5.
Mt. Yari and Mt. Hotaka are
Hiding, I can't see them
Anywhere around,
Yari & Hotaka.

(Chorus)

6.
Yari is the bridegroom,
Hotaka is the bride
In the middle, jealous,
Mt. Yakega-take*

(Chorus)

7.
My life is dedicated
To what I love most,
So cool for some reason -
Bare rock.

(Chorus)

8.
Charred fish, a boy fishing
Mountain-way, when I ask
About the clouds far away,
He indicates with his pole.

(Chorus)

9.
Rope on my back
On Hotaka Mountain
Tomorrow, the man will
Have the courage to try.

(Chorus)

10.
The remains from Taisho Pond
Are not running out,
Again I turn to look,
Mount Hotaka.

(Chorus)

11.
In health, shall we meet
Again next year
On the Mountain of cherries
Blooming at that time.

(Chorus)

Notes
*"Yake-ru" means "to be jealous" - it's a pun.

*****

In the 1st verse of this song, it's actually a joke about dancing on Mt. Koyari because it's so steep and pointy that no one can dance on it. You need rock-climbing equipment to climb it.

Pronunciation:

アルプス(arupusu)いちまんじゃく(ichi-man-jaku)
こやりの( Koyari-no) うえで(u-e-de)
アルペン(arupen)おどりを(odori-wo)
おどりましょう(odori-masho)

おはな(ohana) ばたけで(batakede)
ひるねを(hirune-wo)すれば(sureba)
ちょうちょが(chou-cho-ga)とんで(tonde)きて(kite)
キスを(kisu-wo) する(suru)

いちまんじゃくに(ichiman-jakuni)
テントを(tento-wo) はれば(hareba)
ほしの(hoshi-no) ランプに(ranpu-ni)
てが(te-ga)とどく(todoku)

おはな(ohana) ばたけで(batake-de)
ひるねを(hirune-wo)すれば(sureba)
かわいい(kawa-i-i)あのこの(anoko-no)
ゆめを(yume-wo)みる(miru)

やりや(Yari-ya) ほだかは(Hodaka-wa)
かくれて(kakurete) みえぬ(mienu)
みえぬ(mienu) あたりが(atari-ga)
やり(Yari) ほだか(Hodaka)

やりは(Yari-wa) ムコどの(muko-dono)
ほだかは(Hodaka-wa) ヨメご(yome-go)
なかで(naka-de)りんきの(rinki-no)
やけがたけ(Yakega-take)

いのち(inochi) ささげて(sasagete)
こいする(koi-suru)ものに(mono-ni)
なぜか(nazeka) つめたい(tsumetai)
いわの(iwa-no)はだ(hada)

いわな(iwana)つる(tsuru) こに(ko-ni)
やまじを(yamaji-wo) きけば(kikeba)
くもの(kumo-no) かなたを(Kanata-wo)
さおで(sao-de) さす(sasu)

ザイル(zairu) かついで(katsuide)
ほだかの(hodaka-no) やまへ(yama-e)
あすは(asu-wa) おとこの(otoko-no)
どきょ(う)(dokyo) だめし(dameshi)

なごり(nagori) つきない(tsuki-nai)
たいしょういけに(Taisho-ike-ni)
またも(matamo) みかえす(mikaesu )
ほだかだけ(hodaka-dake)

まめで(mame-de) あいましょ(ai-masho)
また(mata) らいねんも(rainen-mo)
やまで(yama-de) さくらの(sakura-no)
さく(saku) ころに(koro-ni)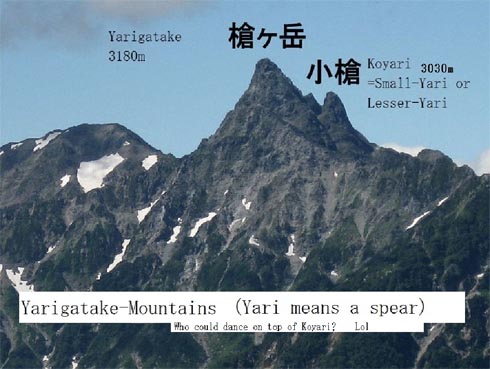 Comments
The 1st verse of this song and the chorus are used as a hand-clapping rhyme. There's a longer version of this song with 29 verses - the full lyrics in Japanese can be found here.

Naming of Japanese Alps:

William Gowland (1842-1922), an English mine engineer named the mountain range. It was introduced in a book by Walter Weston (1861-1940) who was an English missionary.

Check out Mama Lisa's Blog post about how Yankee Doodle Helped Start a Revolution in Japan to learn about the history of this song.


The rendition of this song in the video below includes the 1st, 2nd, 5th and 11th verses.
Please
let us know
if you think this video has been taken down by YouTube.
Thanks!