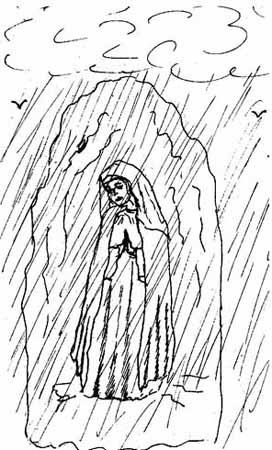 Que llueva, que llueva
Let it Rain, Let it Rain
Canción infantil
Children's Song
Que llueva, que llueva,
la Virgen de la Cueva,
los pajaritos cantan,
las nubes se levantan
que sí, que no,
que caiga un chaparrón
con azúcar y turrón,
que se rompan los cristales
de la estación
y los míos no
porque son de cartón.
Let it rain, let it rain,
Virgin of the Cave,
The little birds are singing,
The clouds are rising.
Oh yes, oh no,
Let it pour down
With sugar and nougats,
Let it break the windowpanes
Of the station,
And not mine
Which are made of cardboard!
Thanks and Acknowledgements
Translated by Monique and Lisa. Illustration by Monique.
¡Muchas gracias!