Mount Fuji is also called Fuji-san in Japanese.

Sadao wrote, "In the original Japanese song the words mention the personification of Mt. Fuji, while my English translation is about my experience as I climbed the mountain and about the view from the foot of it." Climbing Mt. Fuji is a Japanese tradition.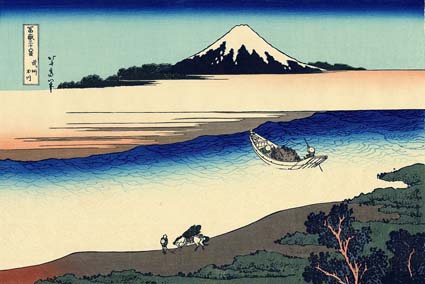 ふじのやま (Fuji no Yama)

Mt. Fuji
Traditional Song
Traditional Song
あたまをくもの うえにだし
しほうのやまを みおろして
かみなりさまを したにきく
ふじは にっぽんいちのやま

あおぞらたかく そびえたち
からだにゆきの きものきて
かすみのすそを とおくひく
ふじは にっぽんいちのやま
On top of the mountain, look at the clouds below
There's no higher peak than up here
The thunder rolls far away from my feet,
Mt. Fuji is the highest peak in Japan.

The blue sky in the background, standing nobly
Wearing a white crown on her head
Flowing, her purple skirt trails far away,
Mt. Fuji is a treasure of the world.


Notes
Here's a more literal translation:

Poking its head out over the clouds
Looking down on all the neighboring mountains
And listening to the thunder booming far below,
Fuji is the greatest mountain in Japan.

It towers high up in the blue sky
Wearing a kimono of snow on its body
At its feet unfurls a hem of fog
Fuji is the greatest mountain in Japan.

*****
Pronunciation:

Atamawo kumono ueni dashi
Shihouno yamawo mioroshite
Kaminarisamawo shitani kiku
Fujiwa Nippon-ichino yama

Aozora takaku sobietachi
Karadani yukino kimono kite
Kasumino susowo tohku hiku
Fujiwa Nippon-ichino yama
Comments
This is a Ministry of Education song from 1911.

Many thanks to Sadao Mazuka for sharing this song, for the mp3 tune and for translating it.

Thanks and Acknowledgements
Literal translation by Mama Lisa.

Image: Tama River in Musashi Province by Katsushika Hokusai
Arigato gozaimasu!