This is a game for pre-schoolers about Russian nesting dolls (called Matryoshka).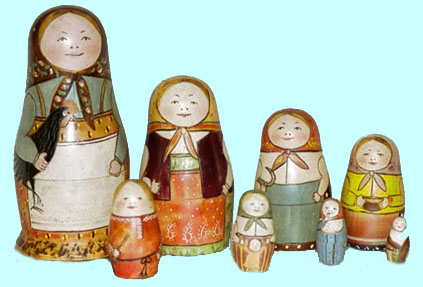 Хожу-брожу, матрешку держу
The Russian Doll
Хожу-брожу,
матрешку держу,
Разберу напополам -
детям в руки дам.
I go back and forth,
Holding a Russian nested doll
I split it in two parts
And put them into the children's hands.
Notes
Pronunciation:

Khajoo, brajoo,
Matryuchkoo derjoo,
Rassbiroo napapalam,
Détyam v rooki dam.

kh like a Spanish "j" or a German "ch" in Bach.
j: without the initial "d" sound, like "s" in leisure, pleasure.
Game Instructions
The children sit in chairs. The adult tells them to put their hands behind their backs. The adult walks behind the children, splits the matryoshka (Russian nesting doll) into two parts and puts them in the hands of two of the children. Then the adult goes back in front of the children and asks the ones who have the doll to join her. The children run and stand in front of the group, then build the matryoshka up again. With older kids, a child may be asked to be the leader.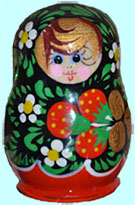 Comments
Maya wrote, "I saw this game in daycare in Russia (I visited this daycare in March -2012-), I adapted the game for the children I'm in charge of and it works very well! :-)) "

Thanks and Acknowledgements
Many thanks to Maya Osnovina for contributing this song, translating it into French, providing the instructions and singing it for us.
Bolshoe spasibo!

Большое спасибо!