Dandansoy is a Visayan Folk Song that's also sung as a lullaby.

Dandansoy is the name of a boy. This song is about the singer leaving Dandansoy to go back to her hometown.
Dandansoy, bayaan ta ikaw
Pauli ako sa payaw
Ugaling kung ikaw hidlawon
ang payaw imo lang lantawon.

Dandansoy, kung imo apason
Bisan tubig di magbalon
Ugaling kung ikaw uhawon
Sa dalan magbubon-bubon.

Kumbento, diin ang cura?
Munisipyo, diin justicia?
Yari si dansoy makiha.
Makiha sa pag-higugma,

Ang panyo mo kag panyo ko
Dal-a diri kay tambihon ko
Ugaling kung magkasilo
Bana ta ikaw, asawa mo ako.
Dandansoy, I'd like to leave you,
I'm going back home to Payao.
Though if you yearn for me,
Just look towards Payao.

Dandansoy, if you follow me,
Don't bring even water.
Though if you get thirsty,
Dig a well along the way.

Nunnery, where's the priest?
City Hall, where's justice?
Here is Dansoy, charged
Charged with falling in love.

Your handkerchief and my handkerchief
Bring them here, as I'll tie them together
For if they interweave
May you be my husband, I your wife.
Notes
According to "Humanities and the Digital Arts (2006), this is a "dance of wine - gatherers". There's reference also to this song in Philippine Magazine (1924) Volume 21.
Comments
You can hear this song here and in the videos below.


Sheet Music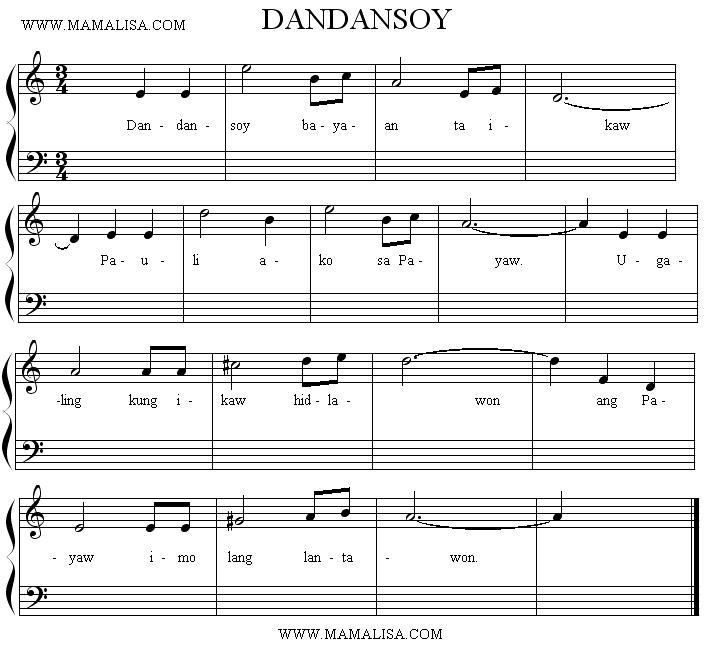 Thanks and Acknowledgements
Many thanks to Sanny Tendilla for contributing this song and midi. Sanny wrote: "Here is one of my Filipino folk songs midi sequences. Please see my blog for more Filipino folk songs."

Translated by Lisa Yannucci.
Salamat!