This song comes from the Aesop's fable, "The Crow and the Pitcher". The moral is about the virtue of ingenuity.

This song is phonetically called "Ek Pyasa Kawa Tha".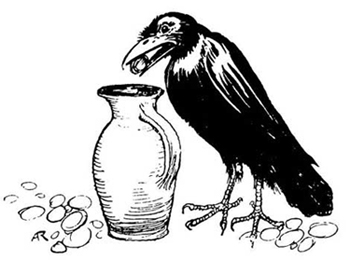 ایک کوا پیاسا تھا
There Was a Thirsty Crow
۔ایک کوا پیاسا تھا،
گھڑے میں پانی تھوڑا تھا،
کوے نے ڈالے
کنکر،پانی آیا اُوپر،
کوے نے پیا پانی،
ختم ہوئی کہانی۔
There was a thirsty crow,
Pail had little water
Crow put pebbles in
Water raised up
Crow drank water
That's the end of our story.
Notes
Pronunciation:

Ek Pyasa Kawa Tha
Jug Mein Thoda Pani Tha
Kawa Dala Kankar
Pani Aya Upar
Kawa Peeya Pani
Khatam Hamari Khani


This is the 1st song in the video below...
Thanks and Acknowledgements
Many thanks to Foziar for contributing this rhyme.

Photo: Wikipedia, cc 2.0
شكريه

Shukriya!