This song is sung in the Nahua communities on wedding days.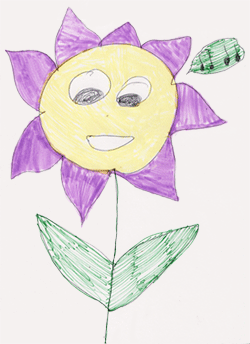 Xochipitzahuatl
Tiny Flower
Traditional Song
Traditional Song
Xihualacan huan poyohuan
Ti paxalo ti María
Timiyahualotzan, pan Tonantzin
Santa María Guadalupe.
Come all, friends
To visit Mary
Let's gather around Tonantzin*
Holy Mary of Guadalupe
Notes
*Tonanztin "Our revered mother" represents the Aztec Mother Goddess. The basilica of Our Lady of Guadalupe of Mexico was built on the place her pyramid used to stand.

Thanks and Acknowledgements
Thanks to Lila Pomerantz for the drawing!