"'Kodom' is a kind of flower that blooms in the rainy season in Bangladesh." -Purabi

"Some also call this song সোনামণির বে (Sonamonir Be - Little Darling's Wedding)." -Prama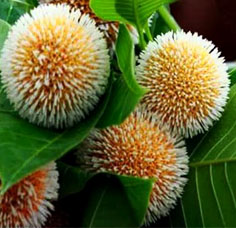 কদম তলা (Kodom Tola)
Under the Kodom Tree
চাঁদ উঠেছে, ফুল ফুটেছে,
কদম তলায় কে?
হাতি নাচছে, ঘোড়া নাচছে,
সোনামণির বে।
The Moon has risen, and the flowers bloom,
Who is that sitting under the kadam tree?
Elephants dance and horses prance
It's my darling daughter's wedding day.
Notes
Transliteration

Chand utheche, phul phuteche,
Kodom tolai ke?
Hati nachche, ghorha nachche
Sonamonir bey.

Comments
The photo is a picture of a kodom or kadam flower.
Thanks and Acknowledgements
Many thanks to Purabi Khisa for contributing and translating this rhyme! Thanks to Prama Neogi for the Bengali text.
Dhonnobad!