Bengali New Year – Nôbobôrsho
April 12th, 2011
Purabi wrote from Bangladesh: "The day after tomorrow is 'Bengali New Year'. Wishing all of you a very prosperous, joyful life!"
Mongol Jatra, literally 'colorful rally', is enjoyed by people irrespective of race, religion etc. on the New Year.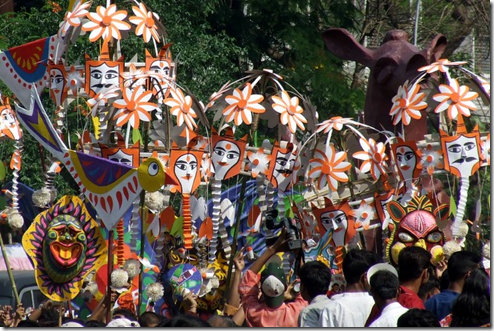 Mongol Shuva Jatra
Pohela Boishakh is the first day of the New Year and the new calendar.  The new year begins around April 14th each year. 
Purabi said: "We have a traditional calendar which also consists of 12 months. Each month has 30 days. The seasons here are determined by Bengali months. The calendar starts with summer, then monsoon, autumn, late autumn, winter and the last one is spring. Summer has already begun.  (Summer is very hot in Bangladesh.)
These (below) are Bengali letters, it says, ' Shubho pohela Boishakh' – Happy New Year.  Boishakh is the 1st month of Bengali calendar."

Shubho Nobo Borsho! 
(Happy New Year!)
-Mama Lisa
Photo of Mongol Jatra by Niloy
One Response to "Bengali New Year – Nôbobôrsho"
Lisa Yannucci Says:
April 14th, 2011 at 8:16 am

Purabi wrote: "Thanks Lisa. Today we are celebrating Bengali New Year 1418. Mughal Emperor Akbar introduced the Bengali year. It's really a colorful celebration taking place in every corner of the country! Most of the people in our country are poor but on this day they know how to enjoy every bit of color, entertainment of the day! Shubho Noboborsho!"

Shubho Noboborsho Purabi!
Leave a Reply