Chakma Wedding Custom in Bangladesh
December 6th, 2020
Purabi shared this photo of symbolic rice and cotton from a Chakma wedding she recently attended in Bangladesh and talked about its symbolism…

"Rice and cotton are used for giving blessings to the Couple. The elderly relatives and guests give blessings to the Couple by touching the jewellery with the rice and cotton so that they can live happily. Here 'rice and cotton' symbolize food and clothes.
Rice and cotton together also symbolize 'happiness and wealth' in a married life. While blessing the couple, one holds the rice with the cotton. The rice should be held with the cotton so that the rice does not fall.
This is not part of the wedding ceremony of the mainstream people of Bangladesh. We are an indigenous group in Bangladesh called the 'Chakma'. This is a Chakma traditional wedding."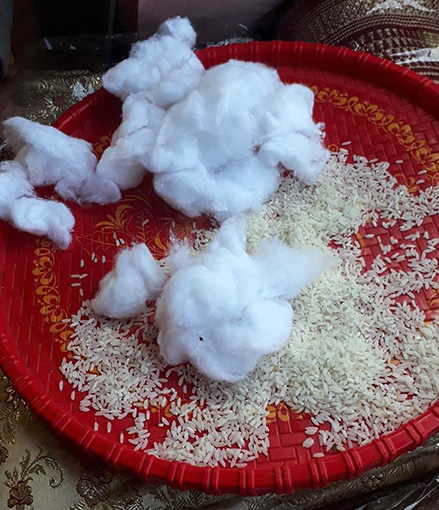 About the Chakma People (from Wikipedia):
"The Chakma people, are a native group from the easternmost regions of the Indian subcontinent, they are the largest ethnic group in the Chittagong Hill Tracts region in southeastern Bangladesh, and in Mizoram, India… Their ethnicity is closely linked with the peoples of East Asia. However, the Chakma language (written in the Chakma script) is part of the Indo-Aryan language family of the Indian subcontinent. Most Chakma people are adherents of Theravada Buddhism. The Chakmas are divided into 46 clans or Gozas. The community is headed by the Chakma Raja, whose status as a tribal head has been historically recognized by the Government of British India and the Government of Bangladesh."
Many thanks to Purabi Khisa Tandra for sharing this with us!
Leave a Reply