Haiku Poem

"Furuike ya" is a Japanese Haiku poem written by 17th century Japanese poet Matsuo Basho. It's considered the most popular Haiku poem ever!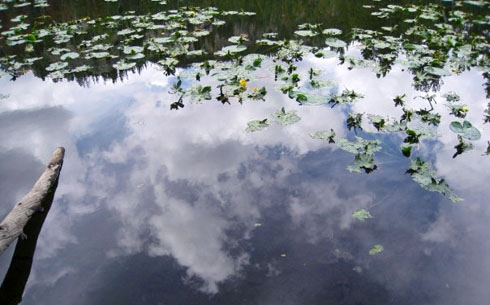 A very old pond
A frog jumping into it
Sound of water, splash!
Notes
Transliteration

Furuike ya
kawazu tobikomu
mizu no oto

*****

Note: Haiku poems are only three lines long. The first line is 5 syllables, the second is 7 and the third is 5 syllables.

Matsuo Basho lived from 1644 to 1694.

This poem is chanted in the Shigin style in the recording below. Shigin is a way of reciting poems in Japanese that most likely dates back to the 5th century. The poems are chanted, often before an audience.
Many thanks to Sadao and Shihoko Mazuka for the recording.

You can hear this Haiku poem in the youtube video below in Japanese and English.
Thanks and Acknowledgements
English version in Haiku style and photo by Mama Lisa.
Arigato gozaimasu!