Robert Ngui wrote: "This is another 'Babes in the Woods' song, which my mother sang when I was a boy in Australia."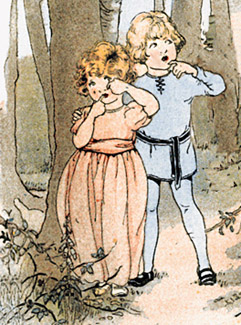 Oh my friends don't you know
How a long time ago
There were two little children
Whose names I don't know?

They were taken away
On a cold winter's day
And left in the woods
So I heard some folks say.

And they sobbed and they sighed
And they bitterly cried
'Til at last they grew weary
And lay down and died.

And the robins so red,
When they saw they were dead,
Took strawberry leaves
And over them spread.

Oh babes in the woods,
Poor babes in the woods,
How sad is the story
Of the babes in the woods.
Thanks and Acknowledgements
Thanks to Robert Ngui for contributing this version of "Babes in the Woods".