" A classic Aussie childhood song!" -Michelle Robertson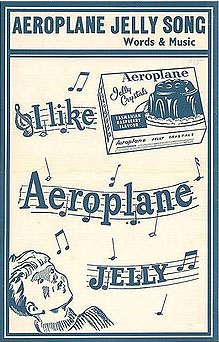 I like Aeroplane Jelly, Aeroplane Jelly for me.
I like it for dinner, I like it for tea,
A little each day is a good recipe!
The quality's high as the name will imply,
It's made from pure fruit, one more good reason why
I like Aeroplane Jelly, Aeroplane Jelly for me... ba-boom!
Notes
Words and Music: Albert Francis Lenertz (1891 - 1943)
Comments
"Aeroplane jelly is an Australian Icon. The following song is known by most Australians as it has been used in advertising since 1938 and can be found on many children's music CDs. The song is accompanied by a logo of an aeroplane named Bertie who is recognisable to most Australians.

Aeroplane jelly was first marketed in 1927. The company was founded by Bert Appleroth who allegedly wrote the famous advertising jingle [this is not correct]. In 1937 (or '38) five-year-old Joy King recorded I Like Aeroplane Jelly." -Tracey Petersen

It turns out the Aeroplane Jelly jingle was written and composed by Albert Francis Lenertz (1891–1943), Appleroth's business partner.

You can hear the tune to this song in the recording below.
Many thanks to Michelle Robertson for recording the tune.

"I found a YouTube of the popular ad 'Aeroplane Jelly' was from. This originated in the 1930s, but I know it from the re-runs in the 1980s." -Michelle Robertson


Please
let us know
if you think this video has been taken down by YouTube.
Thanks!
Sheet Music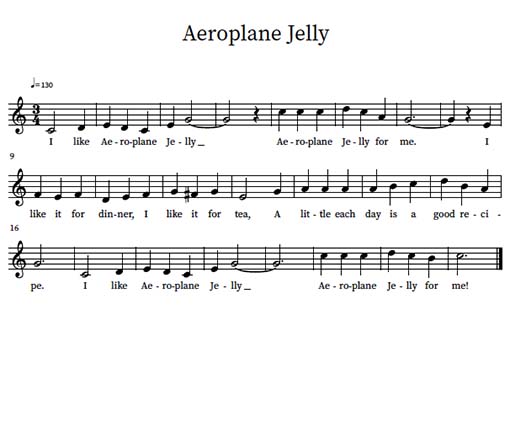 Thanks and Acknowledgements
Many thanks to Tracey Petersen for contributing and commenting on this song! Thanks to Michelle Robertson for the score!
Thank you very much!