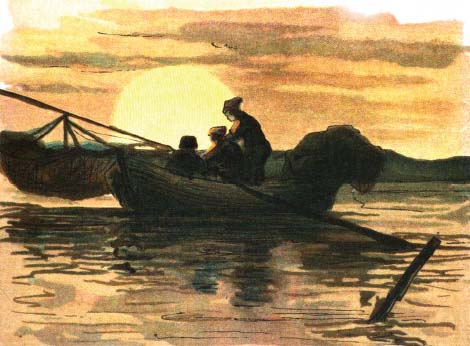 Ro, Ro Til Fiskekjær
Row, Row To The Fishing Reef
Children's Song
Children's Song
Ro ro til fiskeskjær,
Hvor mange fisker får (fikk) du der?
En til far og en til mor,
En til søster og en til bror.
Og en til den som fisken fikk
Og det var vesle (name).
Row, row, to the fishing reef,
How many fish will you get (did you get) there?
One for father, one for mother,
One for sister and one for brother
And one for the one who caught the fish,
And that was little (whoever's name has been inserted.)

Many thanks to Siri Randem from Barnesanger for the recording and score!
Thanks and Acknowledgements
Many thanks to Gus for contributing this rhyme and to Leigh for translating it.

Illustration: Walter Satterlee
Tusen takk!