This song is believed to be from the 17th century or early 18th century. It's about a woman whose love has enlisted in the brigade to find his fortune…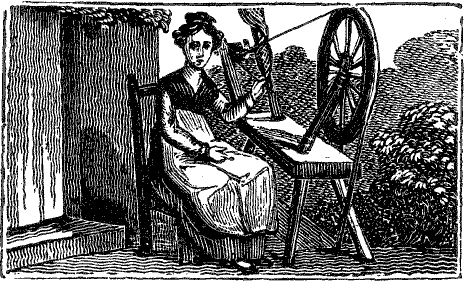 I would I were on yonder hill,
'Tis there I'd sit and cry my fill,
And every tear would turn a mill.

(Chorus in Irish Gaelic)*
Is go d-teidh tu, a mhurnin, slan !
Siubhail, siubhail, siubhail, a ruin !
Siubhail go socair, agus siubhail go ciuin,
Siubhail go d-ti an doras agus eulaigh liom,
Is go d-teidh tu, a mhurnin, slan !

I'll sell my rock, I'll sell my reel,
I'll sell my only spinning-wheel,
To buy for my love a sword of steel**.

(Chorus in Irish Gaelic)

I'll dye my petticoats, I'll dye them red,
And round the world I'll beg my bread,
Until my parents shall wish me dead.

(Chorus in Irish Gaelic)

I wish, I wish, I wish in vain,
I wish I had my heart again,
And vainly think I'd not complain.

(Chorus in Irish Gaelic)

But now my love has gone to France,
To try his fortune to advance ;
If he e'er come back, 'tis but a chance.

(Chorus in Irish Gaelic)
Notes
*Chorus Translation and Pronunciation:

Approximate pronunciation of the chorus:

Iss go dee too, a vourneen slaun.
Shoo-il, shoo-il, shoo-il, a rooin,
Shoo-il go socair, oggus shoo-il go kioon,
Shoo-il go dee an doras, oggus euli liom,
Iss go dee too, a vourneen slaun.

Literal Translation:

And mayst thou go, O darling, safe.
Move, move, move, O treasure !
Move quietly, and move gently,
Move to the door, and elope with me,
And mayst thou go, O darling, safe.

Versified Translation:

And safe for aye may my darling be !
Come, come, come, O love !
Quietly come to me, softly move,
Come to the door, and away we'll flee,
And safe for aye may my darling be !

Chorus translated by Dr. Sigerson for Irish Minstrelsy (1888), edited by H. Halliday Sparling.

**This is a grand gesture, for the woman is proposing to sell all of her spinning supplies, which would have sustained her by supplying her with thread, to buy her love a sword, i.e. to protect him.

"Rock", "reel", and "spinning-wheel" are all related to spinning. Spinning is the process of making thread, usually to later make material on a loom.

The "rock" is also called the distaff. The distaff was a long stick that held the prepared fibers of material for making the thread. It was attached to the spinning wheel. The "reel" is where the thread would go after it was spun. (It would wind around the reel.)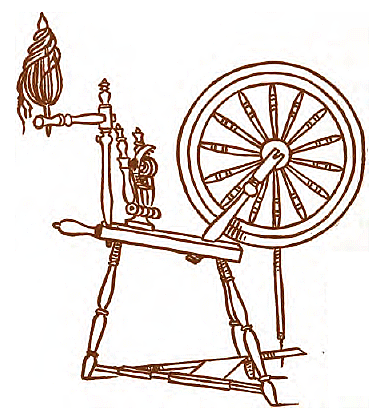 Sheet Music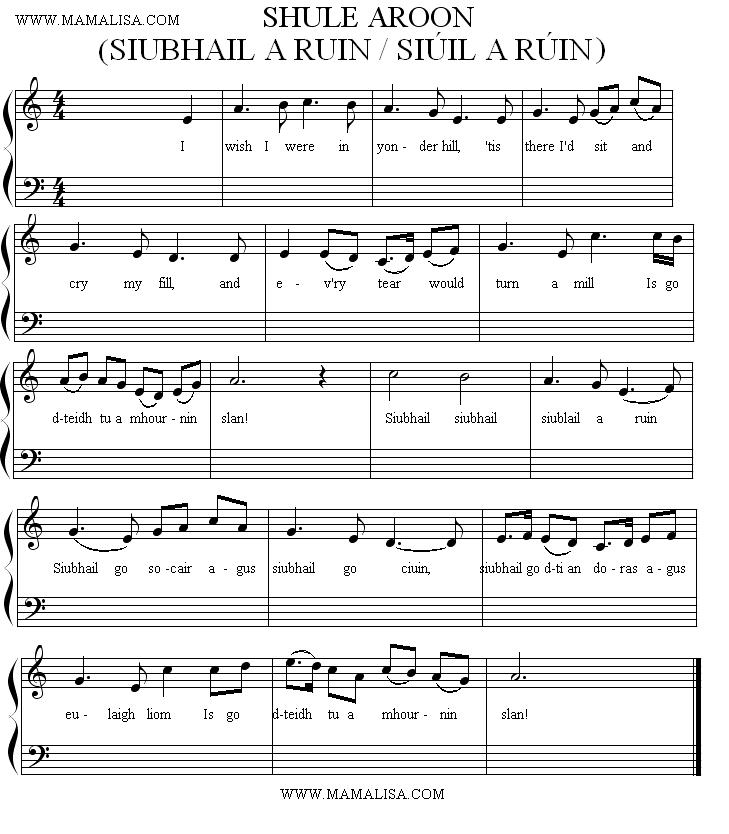 Thanks and Acknowledgements
This song can be found in: Irish Minstrelsy (1888) by H. Halliday Sparling, The Poem-Book of the Gael edited by Eleanor Hull (1912), The Song Lore of Ireland Erin's Story in Music and Verse by Redfern Mason and The Golden Treasury of Irish Songs and Lyrics by Charles Welsh (1907).

Many thanks to Monique Palomares for the midi tune.

The 1st illustration is from Banbury Chap Books, and the 2nd illustration is from The Tale of the Spinning-Wheel (1903), illustrated by Emily Vanderpoel.