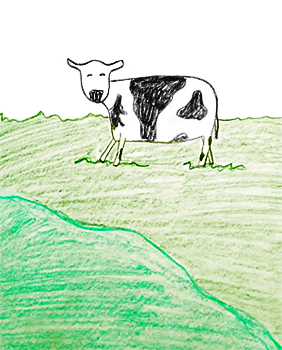 Umbe amma kirata giya
Your Mother Went to Bring Milk
Children's Song
Children's Song
Umbe amma kirata giya
Kiri dogena enne giya
Kiri muttiya gange giya
Ganga degoding gala giya.
Your mother went to bring milk (for you)
By milking (the cow)
The pot with milk went with the river
(And) it flooded all over the banks.
Comments
Sometimes these following lines are sung before the verse above:

Doi doi doi doiya putha
Bai bai bai baiya putha

The words seem to be meaningless, but the type of words you'd find in a lullaby. If anyone knows if they have a specific meaning, please email me. Thanks! Mama Lisa

Here's what we believe is the original Sinhala text:

නුඹෙ අම්මා කිරට ගියා
කිරි එරවා එන්න ගියා
කිරි මුට්ටිය ගඟේ ගියා
ගඟ දෙගොඩින් ගලා ගියා

Can anyone confirm that this is correct? Thanks in advance! Mama Lisa

Thanks and Acknowledgements
Many thanks to Koon Wijekoon for contributing and translating this song and for singing it for us.

Thanks to Lila for the illustration!
Stuti!