In French, each line of this song ends with a letter of the alphabet. The word before the letter ends with the sound of that letter. For example, the first line is "Un jour la troupe campa A A A". The word "campa" ends with the "a" sound, which is the same as the sound you make when you say the letter "A".

Since the English lyrics don't have the same rhyme, we didn't write the letters at the end of each line.
Alphabet des Scouts
The Scouts' Alphabet
Chanson enfantine
Scout Song
Un jour la troupe campa A A A
La pluie se mit à tomber B B B
L'orage à tout casser CCC
Faillit nous inonder A B C D

Le chef s' mit à crier É É É
À son adjoint Joseph F F F
Fais-nous vite à manger G G G
Les scouts sont sous la bâche E F G H

Les pinsons dans leur nid I I I
Les loups dans leur logis J J J
Chahutaient quel fracas K K K
Avec les hirondelles I J K L

Joseph fit de la crème M M M
Et du lapin de garenne N N N
Et même du cacao O O O
Mes amis quel souper M N O P

Soyez bien convaincus Q Q Q
Que la vie au grand air R R R
Fortifie la jeunesse S S S
Renforce la santé Q R S T

Maintenant qu'il ne pleut plus U U U
Les scouts vont se sauver V V V
Le temps est au beau fixe X X X
Plus besoin qu'on les aide U V X Z.
One day the scouts group camped
The rain began to fall
The terrible rainstorm
Nearly flooded us.

The chief started to shout
To assistant scout Joseph
Hurry make a meal
The scouts are under the tent.

Chaffinches in their nests
And the wolves in their homes
Were making an uproar
With the chirping swallows.

Joseph cooked us some cream
And a wild rabbit stew
And even cocoa
My dear friends, what a supper!

Make sure to be convinced
That the outdoors way of life
Fortifies young ones
Strengthens everyone's health.

Now as it rains no more
The scouts will go away
The weather's very fine
They need nobody's help.
Comments
This song is well known in all the French speaking world.

Sheet Music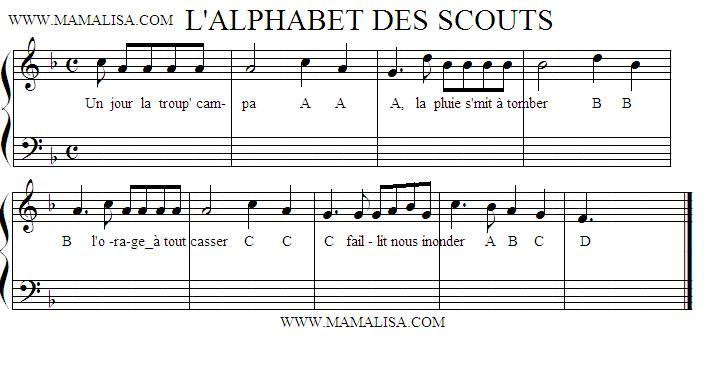 Thanks and Acknowledgements
Many thanks to Lucie Lasseel for contributing this song and to Monique Palomares for translating it.
Merci beaucoup