Έλα ύπνε μου, πάρε το
Come, Good Sleep
Έλα ύπνε μου, πάρε το
Κι άμε συριάνισέ το
οτης Πόλης την Άγιά Σοφιά,
οτης Χιός τα περιβόλια,
Και γέμισε τους κόρφους του
Τριαντάφυλλα και ρόδα.
Come, good Sleep, take him
And make off with him
To St. Sophia in Constantinople,
To the gardens of Chios,
And fill his lap
With roses and more roses.
Notes
Ela eepne moo
(Transliteration)

Ela eepne moo, pare to
Ke ame seerianisse to
Stis polis tin Aya Sofia
Stis Chios ta perivolia
Ke yemisse toos korfoos too
Triandafeela ke rodha

"e" like in "red"
"ch" like in German "ich"
"dh" like in "the"

*****
Comments
*****

Above we tried to modernize the Greek text (change of spelling officially adopted in: 1982). Below is the original ancient text we were given.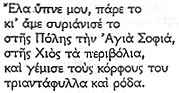 We apologize for any errors in the modernized version and welcome corrections. Please email us with any modifications.

*****

Many thanks to Marietta Parianos for the recording of Come, Good Sleep.
Thanks and Acknowledgements
Many thanks to Thomy Verrou at the Institute for Balkan Studies in Greece for contributing and translating this song. Many thanks also to Monique Palomares for the transliteration and to Marietta Parianos for checking and helping with it and for singing the song.
Ευχαριστώ πολύ!