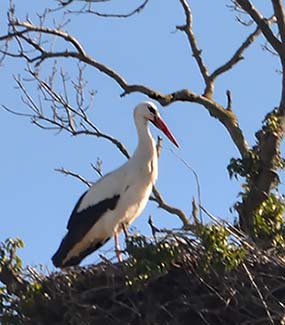 Children's Song
Children's Song
Կարծրակտուց իմ հորեխպեր,
Գարուն բերող իմ հորեխպեր,
Ամեն անգամ մեր կողմ գալիս
Քեզ հետ միայն կանաչ ճյուղ բեր :

Ցավ չբերե՜ս քո հեռվից,
Դավ չբերե՜ս քո հեռվից...
Թե մեր տունը ավերվեց՝
Քոնն ել հետը կավերվի :
Stork, my heartbreaker uncle,
My spring bringing uncle,
Each time when you come to us
Bring with you joyous green branches.

Don't bring us grief from afar,
Don't bring sorrow from afar,
If our house falls into ruins,
Yours will also fall to ruins.
Notes
Transliteration:

kartsraktuts' im horekhper,
garun berogh im horekhper,
amen angam mer koghm galis
k'yez het miayn kanach' chyugh ber.

ts'av ch'beres k'vo herrvits'!
dav ch'beres k'vo herrvits'!...
t'ye mer tuny avervets'`
k'vonn yel hety kavervi.
Thanks and Acknowledgements
Many thanks to Yuri Sahakyan and Anahit Darbinyan for contributing this song and also to Anahit Darbinyan for translating it.

Photo: Monique
Shat shnorhakal em !

Շատ շնորհակալ եմ!