Leron Leron Sinta is a Philippine folk song. It's a children's song too!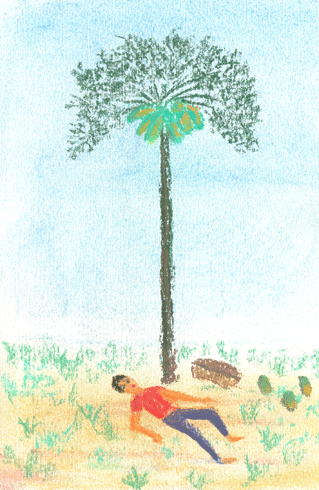 Leron Leron Sinta
Leron, Leron, My Love
Leron Leron Sinta
Buko ng Papaya
Dala dala'y buslo
Sisidlan ng sinta
Pagdating sa dulo'y
Nabali ang sanga
Kapos kapalaran
Humanap ng iba.

Halika na Neneng,
tayo'y manampalok
Dalhin mo ang buslo,
sisidlan ng hinog
Pagdating sa dulo'y
uunda-undayog
Kumapit ka Neneng,
baka ka mahulog.
Leron, Leron, my love,
Papaya sprouts above
Take up, take up a basket, oh!
To hold the fruit, my love,
Upon reaching the top, oh!
The branch broke
What bad luck
I'll find someone else.

Come on now Neneng,
Let's pick tamarind, oh!
Carry your basket
To hold the ripe fruit,
Upon reaching the top, oh!
The branch sways
You hold on Neneng,
Lest you fall off.
Notes
"This song can also be called, 'Leron with the Papaya'." -Huub de Vriend

According to Eric John Carbonell there's a metaphorical meaning of this song: "...the one climbing the tree refers to a student, putting effort into acquiring the 'fruits' of knowledge... But when he/she fails a test, they must try again until they can get it right... and collect them in his 'mind bag'."
Comments
The following translation of the 1st verse is by Eilleen Eugenio:

Leron, Leron, my love
Up a Papaya tree
With him a basket new
To hold the fruit for me
But when he reached the top
The branch broke off
Oh what bad luck
He has to get another one.


Sheet Music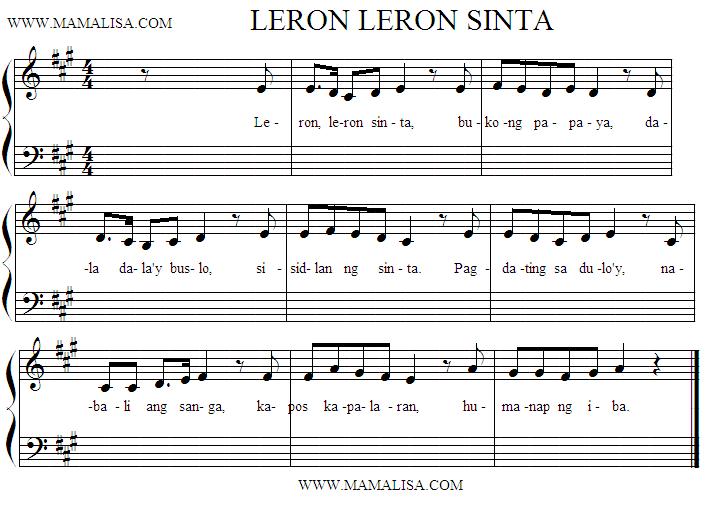 Thanks and Acknowledgements
First and final translation by Lisa Yannucci. Thanks to Eilleen Eugenio for contributing the 1st verse and providing another translation of the 1st verse. Thanks to Huub de Vriend for the midi and original score!
Maraming salamat!