"Bahay Kubo" literally translates as "Cubed House". The name comes from when American teachers went to the Philippines to teach. They were fascinated by the square houses that comprised of just one room. Yet this song is commonly translated as "Nipa Hut" since these house are made with nipa palm leaves and bamboo.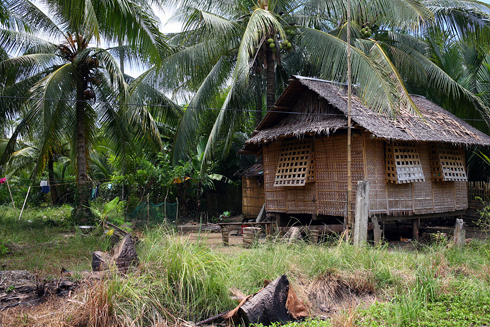 Children's Song
Children's Song
Bahay kubo, kahit munti
Ang halaman doon, ay sari sari
Sinkamas at talong, sigarilyas at mani
Sitaw, bataw, patani.

Kundol, patola, upo't kalabasa
At saka mayroon pang labanos, mustasa,
Sibuyas, kamatis, bawang at luya
Sa paligid-ligid ay puno ng linga.
Nipa hut, even though it's small,
The plants that grow around it are varied:
Turnip & eggplant, winged bean & peanut,
String bean, hyacinth bean, lima bean.

Wax gourd, sponge gourd, white squash & pumpkin,
And there's also radish, mustard,
Onion, tomato, garlic & ginger
And all around are sesame seeds.
Notes
A "sponge gourd" is also called "luffa".

*****

Marcell Pimentel wrote: "I would like to add information about the bahay kubo, while it is more famous as the nipa hut because of the local material its made of which is nipa grass, the name bahay kubo was popularized by the Americans, as they were fascinated to see a square house, with no division just windows and doors, then they called it 'cubed house' or as it has been known ever since as "bahay kubo" and the song bahay kubo was composed during the American period when the first American teachers, "thomasites" as we call them, arrived in the Philippines to educate the Filipinos."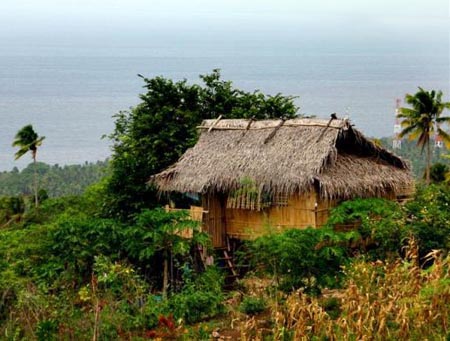 Comments
Arianne wrote:

"Hi! I found your website while searching for the lyrics to Bahay Kubo, which I learned in elementary school growing up here in Portland, Oregon. I saw that you have an english translation and I wanted to share the english translation that I learned as a first grader. I think it's meant less as a literal translation and more as one that can be sung along with the melody.

My nipa hut is very small
but the plants that I grow
are so healthy and tall.
There are beans, there are peas
standing straight in a row,
and spinach and carrots I grow.

Thanks for your great website!"

-Arianne




Here you can see an illustrated YouTube video of Bahay Kubo showing the vegetables in the song.
Please
let us know
if you think this video has been taken down by YouTube.
Thanks!
Sheet Music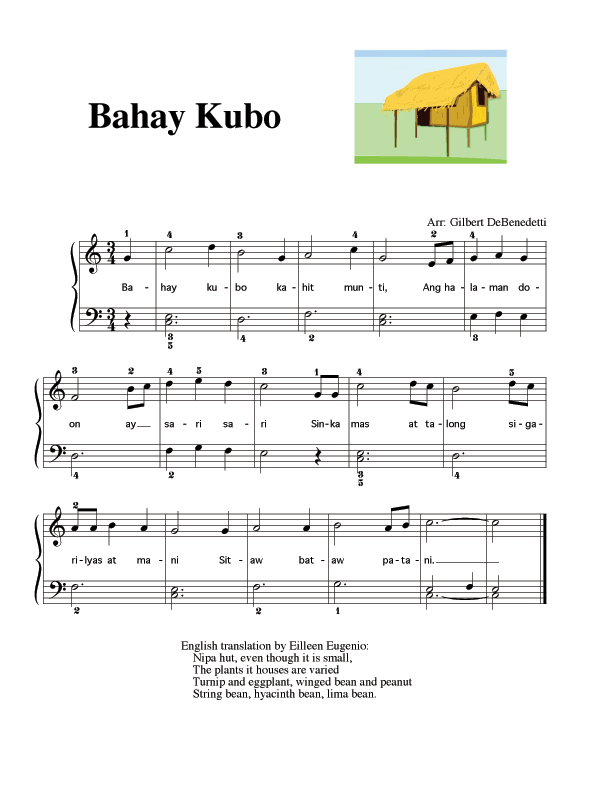 Thanks and Acknowledgements
Many thanks to Eilleen Eugenio for contributing and helping to translate the first verse if this song. Thanks also to Contessa for writing about the English translation of "Bahay Kubo" and to Manuel Viloria for giving an explanation of the Tagalog words on his site. Thanks to Renelyn Hana for help with the 2nd line of the translation. Thanks to Marcell Pimentel for commenting on the origin of the term "bahay kubo". Mama Lisa translated the 2nd verse and did the final translation.

Thanks also to Gilbert DeBenedetti, who has a Free Piano Music Site, for the score.

Thanks to James Deakin for allowing us to use the 2nd photo of a nipa hut from his site of beautiful photos of the Philippines.

Thanks to Arianne for writing about the song!
Maraming salamat!