April 1st, 2012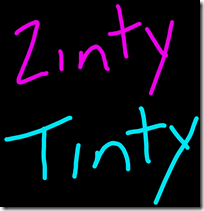 Rhiannon Daymond-King sent me a counting-out rhyme called "Zinty Tinty" with this note:
"I was taught a counting rhyme by my father, who said it came from his mother. Her mother was Swedish, so he thought it was in Swedish (or possibly Norwegian given that the part of the country she was from used to be part of Norway). Looking on the internet I have found several Scottish versions, and I know we have some Scottish ancestry, so perhaps it comes from there. Dad always thought it was something to do with Humpty Dumpty, I'm not sure why, perhaps because it was said with a similar tune.
I learned it as:
Zinty tinty, figgery fell,
Ell dell dominell,
Zutty putty toory rope,
Am tam toozy joke,
You are out!
Eerie oorie, eerie oorie,
You are out!
From what I've seen: This is an interesting mix because it includes bits from a rhyme from the Opies (authors of The Oxford Book of Nursery Rhymes):
'Zeenty teenty, Heathery bethery
Bumful oorie, Over Dover
Saw the King of easel diesel
Jumping over Jerusalem wall.
Black fish, white trout,
Earie, oarie, you are out.'
And also the only one that I have seen which is closest is:

'Eenerty, feenerty, fickerty, feg,
El, del, domun, eg,
Irky, birky, story, roc,
An, tan, toosh, joc.'

(Learned in 1850 at Inverness by Miss Joass, who recited it in 1892.)
Hope this interests you and if you find a version with correct spelling that people can agree on… I'd love to know it.
-Rhiannon Daymond-King
***
If anyone knows more about this rhyme or if you know a similar one, please share it with us below.
Thanks!
Mama Lisa
This artilce was posted on Sunday, April 1st, 2012 at 4:00 pm and is filed under Counting-out Rhymes, Counting-out Rhymes, Countries & Cultures, England, English, English Nursery Rhymes, Languages, Norway, Norwegian, Norwegian Nursery Rhymes, Nursery Rhymes, Questions, Readers Questions, Rhymes by Theme, Scotland, Scottish, Scottish Nursery Rhymes, Sweden, Swedish, Swedish Nursery Rhymes. You can follow any responses to this entry through the RSS 2.0 feed. You can leave a response, or trackback from your own site.
3 Responses to "Counting-out Rhyme called Zinty Tinty"
Katherine Says:
May 29th, 2012 at 3:29 pm

"Eenerty feenerty fickerty feg"

I have come across many variations of this rhyme over the years, there are many local variations and as far as I can tell it varies, not just from region to region, but within a region from school to school.

This version was taught to me by my grandmother who grew up in Kirriemuir, Angus (Scotland). I use approximate spellings because I'm not sure how much of this rhyme contains actual Scots words, some I think are corruptions of acutal Scots words made for the sound. Also, this is recited with a strong Angus accent which can make the spelling of the word very different to the sound.

Eenerty, feenerty, fickerty, feg,
Ell, Dell, Domen egg.
Ilka Burkie stole a lock,
An, tan, twos jouk,
Jouk oot, jouk in,
Jouk around the heckle-pin,
I've a crusie, I've a creel,
I've a pokie fu' o' meal, (fu' = full)
I've a doggie at the door,
One, two, three, four.

SOME TRANSLATIONS;
EENERTY -word traditionally used in counting rhymes,
FICKERTY – possibly a corruption of fickly – puzzling
FEG – a thing of no value OR a manouver in a game of marbles
ELL – an old unit of measurement (usually for cloth) (37.0578 inches)
DELL – a goal or target in boys games
DOMEN EGG – ??? corruption of DOMINIE (old contemptious name for a teacher)
ILKA – each
BIRKIE – a lively young person OR a card game (Begger my neighbour)
AN – ?? one
TAN – ?? ten
JOUK – to jump or duck
HECKLE-PIN – carding comb
CRUSIE – old fashioned type of open rush lamp
CREEL – type of basket (fishing)
POKIE – corruption of POKE – a paper bag
MEAL – most likely oatmeal

Ken Macfie Says:
June 16th, 2012 at 7:33 pm

My father taught us this rhyme as children. He was born in Oban in 1927 and I never heard it used by any of my own generation in the Glasgow area. His version went
" eenty teenty figgery fell
Ell dell doman ell
Urkey turkey torry rope
Am tam toory jock
You are it"

Lisa Says:
June 18th, 2012 at 1:06 pm

Thanks for sharing your version Ken! We added it to our Scottish songs and rhymes pages.
Leave a Reply