April 25th, 2011
Larry wrote asking for help with an Italian song his grandma used to sing. Here's his email…
Hi Lisa,

I think your site is tremendous. Really brought back some memories for me since my Nonna passed away 25 years ago. Just recently, my Dad, Aunts and Uncle were discussing that my great-grandmother used to sing when she would make pizza rustica around the Easter holiday. The loose interpretation is below, and for all we know, it could have been made up by my great grandma. Just wanted to run it by you to see if you have heard something loosely associated with it. It would be a great gift that I could give my family if I we had a full version of the song. Thanks for your time Lisa. All the best to you and to your wonderful website. Buona Pasqua

Here are the words as best as I can come up with!:

Tupa, tupa, qui a lodare…….. e' la Madonna Immacolata
Knock, knock, I've come to praise……… it is the Virgin Mary

Tupa, tupa, qui a lodare……… e' Maria Magdelena
Knock, knock, I've come to praise……… it is Mary Magdeline

Tupa, tupa, qui a lodare……… sono Marta e Maria
Knock, knock, we've come to praise……… it is Martha and Mary

Tupa, tupa, qui a lodare……… e' Elisabetta, la cugina
Knock, knock, I've come to praise………it's cousin Elizabeth

Regards,
Larry
If anyone can help Larry with his Nonna's song, please comment below.
Thanks in advance!
Mama Lisa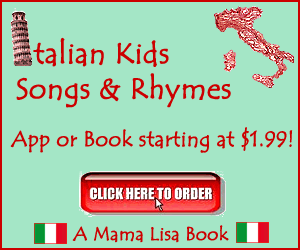 This artilce was posted on Monday, April 25th, 2011 at 4:15 pm and is filed under Children's Songs, Countries & Cultures, Easter, Holidays Around the World, Italian, Italian Children's Songs, Italian Cuisine, Italian Nursery Rhymes, Italy, Languages, Mama Lisa, Questions, Readers Questions, USA. You can follow any responses to this entry through the RSS 2.0 feed. You can leave a response, or trackback from your own site.
One Response to "Can Anyone Help with an Italian Song that Sounds Like, "Tupa, tupa, qui a lodare"?"
john howe Says:
May 25th, 2011 at 9:28 pm

There is an Italian or Sicilian song in the Belgium Film The RED Dwarf that seems to be about small animals being eaten by bigger ones…some of the animals are moscamoura,tigre,lupo,etc. and I need the name of that song. As I recall, it is played at the end with the credits…weird film, great song.
Thank you.
Leave a Reply