"If a string is in a knot, Patience will untie it." – A Poem about Patience
March 2nd, 2017
"Patience" is a great poem about the importance of forbearance. Often you'll just hear the 1st verse recited like a proverb.
You can listen to the poem below and read along with the text.
Patience
By Anna M. Pratt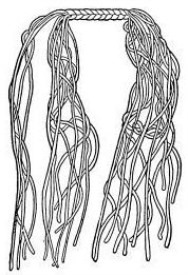 If a string is in a knot,
Patience will untie it.
Patience can do many things—
Did you ever try it?
If it was sold at any shop
I should like to buy it.
But you and I must find our own—
No other can supply it.
Read by Lisa
Enjoy!
Mama Lisa
This article was posted on Thursday, March 2nd, 2017 at 8:38 pm and is filed under Australia, Countries & Cultures, England, English, Languages, New Zealand, Poems, Poems about Patience, Poetry, Proverbs, USA. You can follow any responses to this entry through the RSS 2.0 feed. You can leave a response, or trackback from your own site.
3 Responses to ""If a string is in a knot, Patience will untie it." – A Poem about Patience"
Kenneth Haag Says:
August 23rd, 2017 at 11:50 pm

Hello,

I just discovered your delightful blog and would like to share a song that I found in a children's song book from the 1920's. It's called "The Hippopotamus and Me" and it presents an interesting change of perspective when the child looking at the hippo wonders "what he thinks of me". It was a favorite of my children when they were small – and still is. If you like, I can send it as a pdf of the words and music.

Best Wishes,
KH

Lisa Says:
August 24th, 2017 at 2:27 pm

Sure! We love learning new songs!

Barrington Gates Says:
October 5th, 2017 at 4:19 pm

I found this by searching google and guess what… you're poem was on The Flash tv show!!! seriously that's what I was looking for. I love this POEM!!
Leave a Reply