Recipe for Salted Roasted Almonds
February 28th, 2017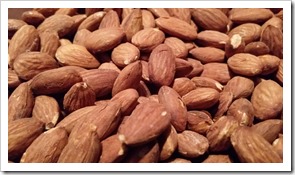 I bought a large bag of raw almonds recently. It was a 3 lb. bag for $12. A great deal! My family loves when I roast them. Yum! Delicious and good for you. Here's my recipe…
Recipe for Salted Roasted Almonds
Ingredients
2-3 pounds Raw Almonds
1 1/2 teaspoons Sea Salt
1 1/2 Tablespoons Hot Water
Preheat the Oven to 350 F.
1. Place the almonds in a big bowl.
2. Have 2 cookie sheets ready. You don't have to do anything to them.
3. Dissolve the sea salt in the hot water in a little bowl. It's okay if it doesn't totally dissolve.
4. Pour the sea salt water over the almonds and mix well until they're coated.
5. Spread the almonds out on the cookie sheets in a single layer.
6. Bake for 10 minutes. Then turn the almonds over and bake for another ten minutes.
7. Taste a cooled off almond. If it's to your desired crispness, then take them out. Otherwise, you can cook 8 additional minutes at a time. They're done when you like the taste. Some people like them cooked more, some less.
Enjoy!
Mama Lisa
Leave a Reply