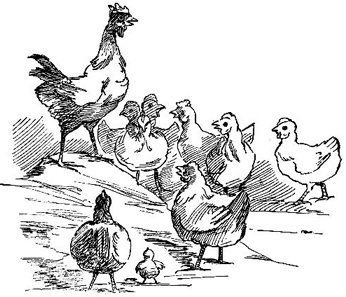 The Chickens
Children's Song
Children's Song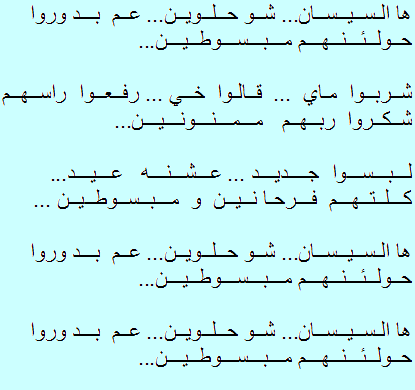 The chickens… too pretty….
Dance in a circle happily …

They drank water…. They said "khay"…. They raised their heads
Thanking their God gratefully.

They put their new clothes on… for there's a celebration…
They're very cheerful and happy…

The chickens… too pretty….
Dance in a circle happily …

The chickens… too pretty….
Dance in a circle happily …
Notes
Ha Seessan
(English Transliteration)

Ha Seessan… shoo hilwin… âm beedooroo
Hawala-inhom mabsootin…

Sheerboo may… kaloo khay… rafâoo rashom
Shacaroo rabhom mamnoonin…

Libsoo jdid… âchanhoo âid…
Killit-hom farhanin oo mabsootin…

Ha Seessan… shoo hilwin… âm beedooroo
Hawala-inhom mabsootin…

Ha Seessan… shoo hilwin… âm beedooroo
Hawala-inhom mabsootin…

***


Many thanks to Raida in Germany for recording this song for Mama Lisa's World. Shukran!
Thanks and Acknowledgements
Many thanks to Mr. and Mrs. Laamarti for the Arabic text. Thanks also to Monique Palomares for the English translation and transliteration. Shukran!

Let us know what you think!
If you feel any comment below is inappropriate, please email us. Thanks!