Plouf tizen tizen
Ploof Tizen Tizen
Children's Song
Children's Song
Plouf tizen tizen
Sammaniyi maouzen
Tismin tis am mamin'
Sardin' a kaoukaou
Sardin' a kaoukaou.
Ploof tizen tizen
They called me "mawzen"*
Because they're as jealous as lice,
Sardines and peanuts,
Sardines and peanuts.
Notes
*"Maouzen" / "mawzen" / "maouzan"… means "ugly".
Comments
We received the following comment about this rhyme:

"The song is definitely Kabyle Berber. 'Sammaniyi maouzen' looks Arabic but it's actually samma-n-iyyi rather than samma-(w)-ni, as in 'called-they-me.' I have no clue about the third line; the Tashlhiyt word for louse is tilkint."


Sheet Music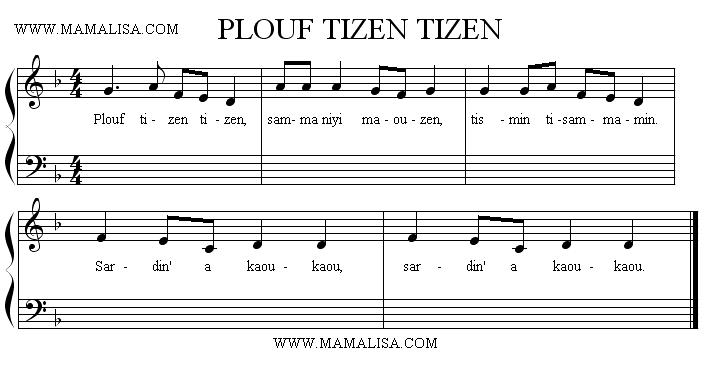 Let us know what you think!
If you feel any comment below is inappropriate, please email us. Thanks!