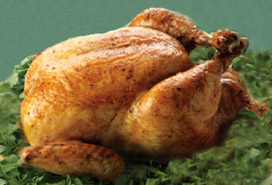 Pollito asado
Roasted Chicken
Canción infantil
Children's Song
Pollito asado muy bien dorado
para papito que está enojado!
Roasted chicken very golden,
For my daddy who is scoldin'!
Thanks and Acknowledgements
Many thanks to Karissalara for contributing and translating this song!
¡Muchas gracias!
Let us know what you think!
If you feel any comment below is inappropriate, please email us. Thanks!