Yuzu Fruit and the Winter Solstice in Japan
December 21st, 2010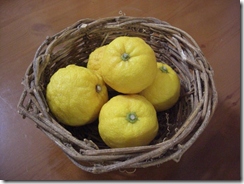 Yuzu Fruit
Ayako Egawa wrote from Japan:
December 22nd is the Winter Solstice in Japan.  [It's on the 21st in the U.S.*]  We Japanese enjoy "yuzu" around this time.

You can enjoy "yuzu tea" and a "yuzu bath" easily.

Wash the yuzu and cut it thin. Then soak it in a little honey and sugar. 

After several hours, put the dipped yuzu in a cup and pour hot water onto it.  Now you can enjoy yuzu tea.  Drinking yuzu tea makes you hot and relaxed, in addition you can enjoy the fragrance, too.

We float yuzu in the bath, too. We call it "yuzu-yu" and enjoy it around the winter solstice.  "Yuzu-yu" makes you not only warm, but smoothes your skin!

Try and enjoy Yuzu, when you find it!
Thanks for sharing the Yuzu Winter Solstice tradition with us Ayako!  Happy Winter Solstice.  Now we can be happy in the fact that the days will start to get longer.
Mama Lisa
*According to GreenAnswers.com the Winter Solstice is at exactly the same time all around the world.  That's why it's on the 22nd in some places and on the 21st elsewhere.
3 Responses to "Yuzu Fruit and the Winter Solstice in Japan"
David Williams Says:
December 24th, 2010 at 12:22 am

Dear Mama Lisa,
I represent the Looktoung LA company located in the greater Los Angeles area. We are now in the process of making a production on the life of a child growing up in Thailand.. It is expected to include a book, a video, and some songs. It will be based on the life of the proprietress of this company who grew up in the agricultural north of Thailand and who now resides in the Los Angeles area. She is the owner of the company and is leading this project. She has recently produced a CD with songs of Thailand.

We are very impressed with your website and its special treatment of children's songs, books, videos, CDs, etc. We also noted your excellent items on Thailand relating to children. Since our theme is precisely on a child's view of life in Thailand, we feel it would be a great benefit for us to talk with you while we are still in the formative stages of our project. Your experience and knowledge in this area is beyond any of the people we have dealt with up until this time.

We would really be pleased if you could spare us some time. We would hope that there could be some mutual benefit resulting from our discussing our project with you.

Thank you for listening to us.

Respectfully,

David Williams
dwilli5143@aol.com

Ayako Egawa Says:
July 2nd, 2011 at 8:57 am

thanks lisa.

Ayako Egawa Says:
July 3rd, 2011 at 11:23 pm

lisa, share it. thank you.

ayako
Leave a Reply