"You're Not Supposed to Say That!" – Mama Lisa's Thanksgiving Silliness
November 2nd, 2009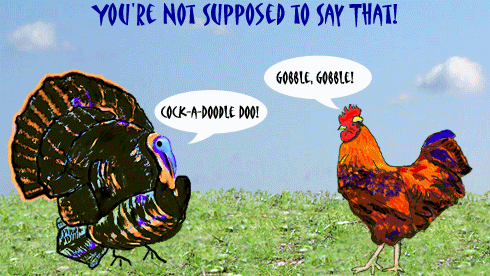 Here's a Thanksgiving poem I wrote in honor of turkeys all over the U.S. in autumn. It's geared towards older kids.
You can click on the mp3 below to hear my husband and me recite it…
You're Not Supposed to Say That!

"Cock-a-doodle-doo!" said the turkey.
"What?!" went the rooster.
"Cock-a-doodle-doo!"
"You're not supposed to say
"Cock-a-doodle-doo!"
Said the rooster.
"Oh yes I am!"
Said the turkey.
"No you're not!"
Said the rooster.
"What am I supposed to say?"
Asked the turkey.
The rooster replied,
"Gobble, gobble, gobble!"
"BOOM"
Went the farmer's gun
And the rooster fell down dead.
"Don't tell me what I'm
Supposed to say!"
Said the turkey,
"Cock-a-doodle-doo!"
Many thanks to my husband, Jason Pomerantz, for playing the part of the Turkey (hee, hee, hee)!
Hope you enjoyed the show!
Mama Lisa
This article was posted on Monday, November 2nd, 2009 at 11:07 am and is filed under Countries & Cultures, English, Holidays Around the World, Languages, Mama Lisa, MP3 Recordings, MP3's, Poems, Poetry, Poetry about the Seasons, Thanksgiving, Thanksgiving, Thanksgiving Poems, USA. You can follow any responses to this entry through the RSS 2.0 feed. You can skip to the end and leave a response. Pinging is currently not allowed.
Leave a Reply