Words of Wisdom from a Wise Old Jazz Musician
May 14th, 2011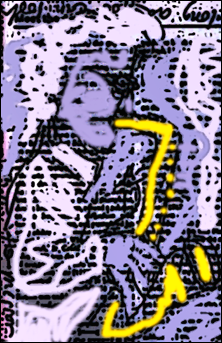 My husband and I went to see Jazz artist Sonny Rollins in concert last night.  This guy is 80 years old.  He was cranking out great jazz for the entire concert… a full hour and a half.  I wondered if his attitude has kept him so young of heart.  He said to the audience (I paraphrase)…
Enjoy life and don't be afraid of anything as long as you can look at the man (or lady) in the mirror.  If you can look at the man in the mirror at the end of the day, you'll be fine.  So just have fun!
Wouldn't it be nice if everyone had that attitude?  It basically boils down to… enjoy life, but do what you know is right.  If everyone believed that, the world would be a better place.
Thanks Sonny Rollins for being such an inspiration! -Mama Lisa
Drawing of Sonny Rollins by Mama Lisa
This article was posted on Saturday, May 14th, 2011 at 3:20 pm and is filed under Countries & Cultures, Jazz, Music, Sonny Rollins, USA. You can follow any responses to this entry through the RSS 2.0 feed. You can skip to the end and leave a response. Pinging is currently not allowed.
One Response to "Words of Wisdom from a Wise Old Jazz Musician"
Aya Says:
June 14th, 2011 at 1:39 am

That words sound so touching. Thank you.
Leave a Reply