The Frog in the Well – A Chinese Idiom, Story and Bilingual Book
May 12th, 2011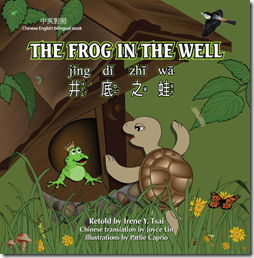 The Idiom: The Frog in the Well – 井底之蛙 (jǐng dǐ zhī wā) – is a Chinese idiom that refers to a narrow-minded person who doesn't see the larger world around them. 
The Story: The story is about a frog who lives happily in a well.  He has no idea what's outside of that well.  One day a turtle comes along and tells him about the great wide world, and the beautiful blue ocean.  The frog becomes embarrassed when he realizes he's been living in such a small sheltered world.
The Book: Irene Tsai retells this story in the bilingual Chinese English book called "The Frog in the Well".  It's a wonderful book for children who are learning Mandarin Chinese.  It has the English version and the Chinese translation with the pinyin text.  (Pinyin is an official system used to phonetically spell Mandarin Chinese words using the Roman alphabet.)  Kids can read along while looking at the colorful illustrations.
You can order The Frog in the Well on Amazon or check out Chinese English Bilingual Books for more info about it.
Enjoy!
Mama Lisa
This article was posted on Thursday, May 12th, 2011 at 3:16 pm and is filed under Bilingual Books, Books & Stories, Childrens Stories, China, Chinese, Chinese Proverbs, Countries & Cultures, Idioms, Illustrations, Languages, Mandarin, Proverbs, Words & Phrases. You can follow any responses to this entry through the RSS 2.0 feed. You can skip to the end and leave a response. Pinging is currently not allowed.
4 Responses to "The Frog in the Well – A Chinese Idiom, Story and Bilingual Book"
Leave a Reply