Wizard of Oz
November 18th, 2005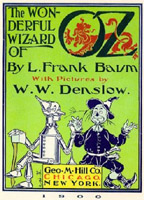 I keep wanting to write that The Wonderful Wizard of Oz is one of my favorite children's books. But when I really think about it, I realize that it's actually one of my favorite books PERIOD!
After having seen the movie umpteen times, as a kid and adult, I wasn't expecting any surprises from the novel, and I had never gotten round to reading it.
But then, in the late eighties, Books of Wonder released an edition that reproduces the first printing, from the turn of the 19th century, in exquisite detail. My husband and I purchased it and we were immediately enticed by the wonderful illustrations by W.W. Denslow.
I was even more charmed by how imaginative the story was, in a way that was different from the movie.
Once my son turned 5, my husband read this book aloud to the two of us. He did a wonderful job, and I wished more people could hear him.
Now that we've entered the age of podcasting, that wish can come true. (And I didn't even have to knock my slippers together!)
So here's my husband, Jason Pomerantz of Fiddle and Burn, reading The Wonderful Wizard of Oz, by L. Frank Baum. (These files have been recorded in MP3 format. Feel free to play them in your browser or download them. If you play them in your browser, be patient… It might take a few minutes to begin playing.)
Wizard of Oz – Chapter 1 – MP3 Podcast Recording: The Cyclone
New chapters will be coming out on a weekly basis, so check back often.
I'm also using this project to spearhead a new website – Mama Lisa's Classics of Children's Literature. Over the next few months, this site will fill with articles discussing some of the best loved stories ever told. We'll discuss the history of such books as Treasure Island, The Brothers Grimm, Huckleberry Finn and many others. Since these works are in the public domain, we'll be able to include links to free, downloadable versions of the complete texts of many of these works. Some will feature MP3 podcasts.
For now, check out the Wizard of Oz page – and remember: There's no place like home!
Leave a Reply