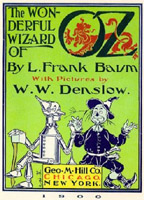 I keep wanting to write that The Wonderful Wizard of Oz is one of my favorite children's books. But when I really think about it, I realize that it's actually one of my favorite books PERIOD!
After having seen the movie umpteen times, as a kid and adult, I wasn't expecting any surprises from the novel, and I had never gotten around to reading it.
But then, in the late eighties, Books of Wonder released an edition that reproduces the first printing, from the turn of the 19th century, in exquisite detail. My husband and I purchased it and we were immediately enticed by the wonderful illustrations by W.W. Denslow.
I was even more charmed by how imaginative the story was, in a way that was different from the movie.
Once my son turned 5, my husband read this book aloud to the two of us. He did a wonderful job, and I wished more people could hear him.
Now that we've entered the age of podcasting, that wish can come true. (And I didn't even have to knock my slippers together!)
MP3 Podcast Recordings of The Wonderful Wizard of Oz
Listen to the reading!
Complete Text of The Wonderful Wizard of Oz
Meanwhile, if you'd like to read the story yourself, you can find the entire text of The Wonderful Wizard of Oz, free, at Project Gutenburg.
Other Oz Sites
The Wonderful Wizard of Oz Website - A great resource for everything Oz.
The IMDb Wizard of Oz Page - Info about the movie, including cast biographies and production details.
The International Wizard of Oz Club - Find other Oz fans!
The Wizard of Oz on DVD - The 2005 edition features three discs packed with tons of bonus materials.
The Oz Encyclopedia - A wonderful reference for the true fan.
Oz as a "Parable on Populism"
- Many people believe Oz is actually an elaborate symbolic commentary on late nineteenth century politics. This essay examines that theory.