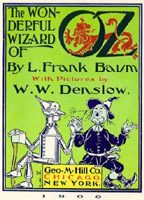 The Wonderful Wizard of Oz is one of my favorite children's books.
After having seen the movie umpteen times, as a kid and adult, I wasn't expecting any surprises from the novel.
When Books of Wonder released an edition that reproduces the first printing, in exquisite detail, my husband and I purchased it. We were immediately enticed by the wonderful illustrations by W.W. Denslow. I was even more charmed by how imaginative the story was, in a way that was different from the movie.
Once my son turned 5, my husband read this book aloud to the two of us. He did a wonderful job, and I wished more people could hear him.
Now that we've entered the age of podcasting, that wish can come true. (And I didn't even have to knock my slippers together!)
So here's my husband, Jason Pomerantz of Fiddle and Burn, reading The Wonderful Wizard of Oz, by L. Frank Baum.
________
________
________
________
________
________
________
________
________
________
________
________
________
________
________
________
________
________
________
________
________
________
________