What Do You Give Santa on Christmas Eve?
December 15th, 2010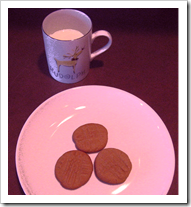 People around the world leave different "treats" for Santa Claus on Christmas Eve. 
In the US and Canada, we put out milk and cookies for Santa.  I have to say when he comes to our house, he leaves a big mess of crumbs on the table… but he always writes us a note of thanks.
In England and Australia, Santa's treated to a glass of sherry with minced pie. While in Wales and Ireland, they give him Guinness beer and cookies, mince pie or Christmas pudding, depending on the house. 
Santa gets a stiff drink to help him stay warm through the night in Sweden, Denmark and Norway.  Sometimes a particular elf or gnome will get risgrynsgrot, a bowl of rice porridge made with cinnamon, sugar and milk. It's regional who brings gifts to houses in Scandinavian countries.  In some places it's the big guy Santa, in others, one of the little elf-like creatures that inhabit the land.
Some people around the world are so thoughtful they put out carrots, hay or grass for Santa's reindeer.
What do you traditionally leave out for Santa in your house or in your country?  Please let us know in the comments below…
Now imagine me lifting my glass of milk, sherry or Guinness to you and saying, "Merry Christmas to all and to all a good night!"
Mama Lisa
This article was posted on Wednesday, December 15th, 2010 at 3:30 pm and is filed under Canada, Christmas, Christmas Eve Traditions, Countries & Cultures, Denmark, England, France, Holidays Around the World, Ireland, Norway, Sweden, United Kingdom, USA, Wales. You can follow any responses to this entry through the RSS 2.0 feed. You can skip to the end and leave a response. Pinging is currently not allowed.
16 Responses to "What Do You Give Santa on Christmas Eve?"
Leave a Reply