Weihnachten – A German Christmas Poem with a Recording
December 7th, 2015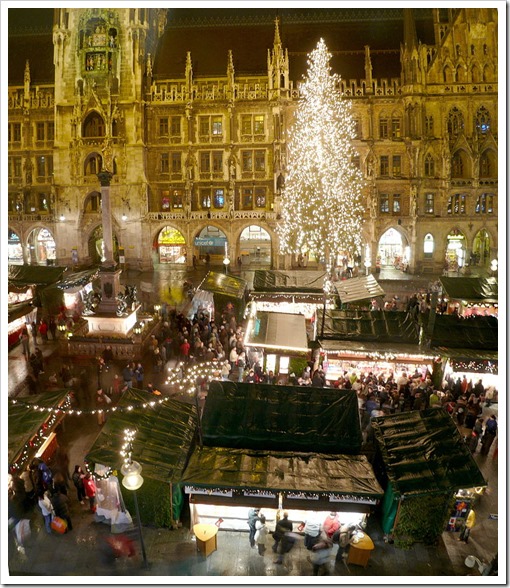 Weihnachten (Christmas) is one of the most famous German Christmas poems. It was written by Joseph Freiherr von Eichendorff (1788 – 1857).
The poem starts with the mention of a market. The Christmas Market – Weihnachtsmarkt – is a big part of the Christmas season in Germany. It usually opens with the start of Advent. It's an open air market where people sell food, drinks and holiday items.  Traditional songs can be heard at these markets.
This poem starts after the close of the market, when the streets are empty, yet the spirit of Christmastime remains.
You can listen to a recording of the poem below and follow along with the original German text and an English translation. After that you can find a musical rendition in a video.
Weihnachten

Markt und straßen stehn verlassen,
Still erleuchtet jedes Haus,
Sinnend geh' ich durch die Gassen,
Alles sieht so festlich aus.

An den Fenstern haben Frauen
Buntes Spielzeug fromm geschmückt,
Tausend Kindlein stehn und schauen,
Sind so wunderstill beglückt.

Und ich wandre aus den Mauern
Bis hinaus ins freie Feld,
Hehres Glänzen, heil'ges Schauern!
Wie so weit und still die Welt!

Sterne hoch die Kreise schlingen,
Aus des Schnees Einsamkeit
Steigt's wie wunderbares Singen –
O du gnadenreiche Zeit!

Christmas
(English Translation)

The market and the streets stand empty,
Every house is quietly illuminated,
Musing I go through the streets,
Everything looks so festive.

In the windows, women have
Colorful toys decorated sacredly,
A thousand little children stand and look,
They're so thrilled and wonderfully quiet.

And I wander past the walls
Until out in the open field
Sublime radiance, the saints behold!
How immense and silent is the world!

Stars up high and circling around
Over the snowy solitude
Rising like wonderful singing –
O thou blessed time!

Recording by Sonia
Translation by Lisa Yannucci
Here's a singing rendition of Weihnachten…
Merry Christmas!
Mama Lisa
This article was posted on Monday, December 7th, 2015 at 9:04 pm and is filed under Christmas, Christmas Poems, Christmas Songs, Countries & Cultures, German, Germany, Holiday Songs, Holidays Around the World, Languages, MP3's, MP3's of Poems, Poetry, Recordings, Recordings of Poems, YouTube. You can follow any responses to this entry through the RSS 2.0 feed. You can skip to the end and leave a response. Pinging is currently not allowed.
One Response to "Weihnachten – A German Christmas Poem with a Recording"
Frank Says:
December 14th, 2016 at 3:03 pm

So very nice – thank you for sharing (have an enriching Christmas)!
Leave a Reply