Top Slang Word in Each State of the USA
September 10th, 2015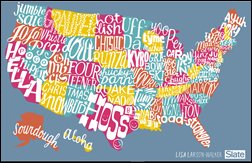 Did you know that each state in the US has it's own slang?  It's true!
Slate compiled a list of the top slang word in each state. Words were chosen in part by how great they are – as opposed to statistical popularity. Yahoo Travel compiled its own list of slang in each states.  You can also check out The Weirdest Regional Slang Terms from Every State.
I'm writing this late at night, which is why my favorite slang right now is from New Jersey and California.  I'm feeling a bit laggy so I gotta get flat. Laggy is from New Jersey, meaning, lethargic. Gotta get flat is Californian for "I need to lie down"!
Good 'nite!
Mama Lisa
Leave a Reply