Recipe for Swiss Chard Tart
September 21st, 2015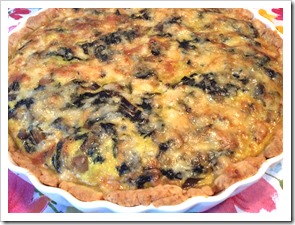 Savory tarts are similar to quiche, except they're thinner and made in a tart pan. I've been making them since I studied in France back in college. The couple I lived with taught me how to create a basic tart.  It's easy!
Swiss chard is easy to find in the autumn and it's great to put in a tart! Here's how you make a Swiss Chard Tart…
Recipe for Swiss Chard Tart
Dough:
1 1/4 cup Flour
1/4 t. Salt
2 t. Sugar
1 Stick Butter (113 g.), cut into small pieces
1 Extra Large Egg, beaten
Filling:
1 bunch Swiss Chard, cleaned
1 Onion, chopped into small pieces
1 – 2 T. Extra Light Olive Oil
3 Eggs
1/2 c. Milk
1 1/2 c. grated Gruyere Cheese
Salt and Pepper to taste
Preheat oven to 400F.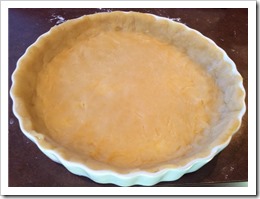 1. To make the dough, mix the flour, salt and sugar in a bowl. Add in the butter and mix with your fingers until it's a course.
2. Add in the beaten egg, mixing first with a fork.  Then kneed it right in the bowl with your fingers until smooth. Form it into a disk shape and wrap in plastic wrap and refrigerate for about an hour.
3. Roll out the dough to be a wide enough circle to fit your tart dish.  Butter the tart dish and add the dough. Press the dough into the form of the tart dish going up the sides.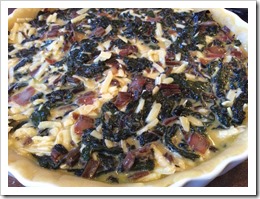 4. Separate the Swiss chard leaves from the stems. Chop up the stems and the leaves keeping them separate. Put the chopped stems into a frying pan with the olive oil and chopped onion.  Fry until soft. Add the leaves and cook until soft and tasty.
5. In a bowl, beat 3 eggs with 1/2 cup milk. Add a little salt and pepper to taste. Then add half the cheese. Mix. Add the cooked Swiss chard and onions and mix. Pour into the tart pan, spreading evenly over the dough.
6. Spread remaining cheese on top.
7. Cook for 30 minutes until golden.  Let cool for 5 – 10 minutes before eating.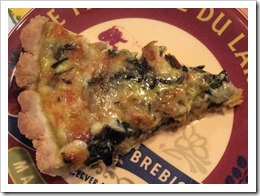 Bon appetit!
Mama Lisa
Leave a Reply