Top German Kids Songs
October 23rd, 2014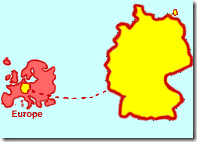 We have over 150 German Songs on Mama Lisa's World with translations.  We were recently asked which ones are popular for children.
Here's a list of the best-known German kids songs that was shared by a German friend.  Each song is linked to its lyrics page with a translation…
Alle meine Entchen
Alle Vögel sind schon da
Auf der Mauer, auf der Lauer
Auf einem Baum ein Kuckuck saß
Backe, backe Kuchen
Der Mond ist aufgegangen
Ein Männlein steht im Walde
Es tanzt ein Bi-Ba-Butzemann
Grün, grün, grün sind alle meine Kleider
Guten Abend, Gute Nacht (Brahms's Lullaby)
Hänschen klein
Hoppe, Hoppe Reiter
Ich geh' mit meiner Laterne
Kommt ein Vogel geflogen
Kuckuck, Kuckuck, ruft's aus dem Wald
Laterne, Laterne
O du lieber Augustin
Summ, summ, summ, Bienchen flieg herum
Zeigt her eure Füsschen
Feel free to share your favorite German song for kids in the comments below.
-Mama Lisa
2 Responses to "Top German Kids Songs"
Lisa Says:
October 30th, 2014 at 3:53 pm

Dago sent this list of popular songs from Germany:

Off the top of my head:

– alle Vögel sind schon da
– hop, hop, hop
– Häschen in der Grube
– Guten Abend, gut Nacht
– Fuchs, du hast die Ganz gestohlen
– Weist du wie viel Sternlein stehen
– Kommt ein Vogel geflogen
– Hänschen klein geht allein
– Oh du lieber Augustin
– ABC, die Katze lief im Schnee

:-)

Mina Says:
August 16th, 2022 at 11:25 am

Am looking for a german kids song that has hand motions that go with it, specifically rolling your hands over each other and it gets faster and faster with every verse. The second line of the song i think was just 1 word repeated (and this is what the hand rolling goes with!)
Leave a Reply