There Was an Old Woman Who Lived in a Shoe
May 8th, 2009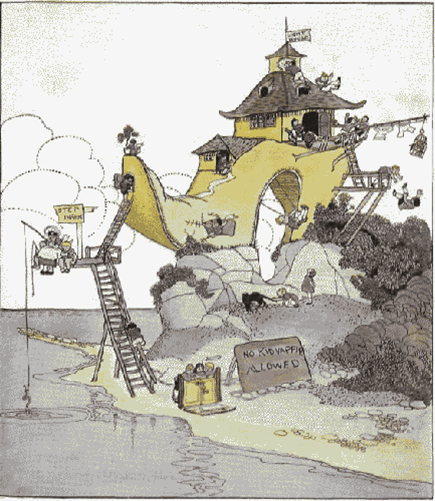 I've loved the image of the old woman living in the shoe since I was a child.  (So much so, that it inspired the Mama Lisa logo!)  Of course, the rhyme itself leaves something to be desired…
There was an old woman who lived in a shoe.
She had so many children she didn't know what to do;
She gave them some broth without any bread;
She whipped them all soundly, and put them to bed.
I'll just keep the first line in my mind with the wonderful image of living in a giant shoe…  Like the interesting one above.  It's from a drawing by P. Vinton Brown.
Enjoy!
Mama Lisa
This article was posted on Friday, May 8th, 2009 at 10:34 pm and is filed under Arts and Crafts, Countries & Cultures, England, English, English Nursery Rhymes, Illustrations, Languages, Nursery Rhymes, There Was an Old Woman Who Lived in a Shoe, United Kingdom. You can follow any responses to this entry through the RSS 2.0 feed. You can skip to the end and leave a response. Pinging is currently not allowed.
19 Responses to "There Was an Old Woman Who Lived in a Shoe"
Leave a Reply