The Tradition of Forgiveness and other Customs for Idul Fitri in Indonesia
December 12th, 2009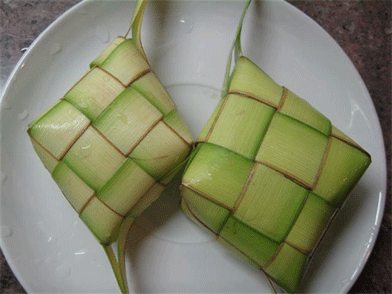 Ketupat is traditionally eaten for Idul Fitri in Indonesia
I recently wrote about Eid'l Fitr, the Muslim holiday marking the end of Ramadan. In Indonesia it's called Idul Fitri.
Dedy Subandowo, an Indonesian, wrote to me about Idul Fitri:
…I am really happy to face this fasting month because after finishing the Ramadan month, we will celebrate a holy day that is called Idul Fitri.
I asked Dedy what customs are involved in Idul Fitri and he wrote:
First, we have to break the fasting at dawn to signal that the fasting month is over. There is no specific custom involved, but people usually wear new clothes that they buy before. It has no relation with Idul Fitri, it's just a cultural tradition in my country. People usually come to the mosque to pray for Idul Fitri at 5-6 am.

Then, after we're back from the mosque, we go home, and all the family shake hands together and say 'Minal aidzin walfaidzin'. It means must forgive each other for all the mistakes ever done, and we begin a new life. It means that we are clear from sin. We start with the children to the parents, and wife to husband, and parents to grandma and grandpa, and then all the family. Then we go to our neighbours and do the same thing.
How wonderful to have a tradition of forgiving your family, friends and neighbors once a year. This would be a good tradition for everyone to follow.
Dedy also told me about the food that's eaten in Indonesia for Idul Fitri:
Usually people celebrate with special food by eating what we call KETUPAT OPOR AYAM. It's a special food when Ramadan and Idul Fitri come. It is very popular in my country Indonesia. Ketupat is rice that is cooked and wrapped in leaves of the coconut tree. Opor ayam means Chicken in Coconut Gravy Seasoning. So we call it KETUPAT OPOR AYAM.
Ketupat is wrapped in the leaves in a special weaved pattern. This video shows someone weaving ketupat…
Wow! That's impressive!
Happy Holiday!
Mama Lisa
PS If you want to try to learn to weave ketupat yourself, here's a slower instructional video…
Note: The photo at the top of the page is from Happyhomemaker88's Virtual Home on a post for Ketupat & Beef Rendang from Malaysia. She talks about how Ketupat is eaten in Malaysia…
Ketupat is compressed rice cooked in little cases made from young coconut leaves. Rice is filled up to at the opening at the top of the ketupat cases up to 2/3 full and boiled for 3 hours. It is very fragrant and is usually served with traditional Malay Beef Rendang (which has been cooked for hours), Serunding (Dried Spicy Meat Floss) and Kuah Kacang (Peanut Sauce like those served with Satay). The dishes can keep for a few days, and are typical fare for the Hari Raya festival (or Id Mubarak as other countries know it ).
Many thanks to everyone for sharing!
This article was posted on Saturday, December 12th, 2009 at 4:14 pm and is filed under Countries & Cultures, Cuisine, Eid'l Fitr, Holidays Around the World, Indonesia, Indonesian Cuisine, Ketupat, Mama Lisa, Recipes of the World, YouTube. You can follow any responses to this entry through the RSS 2.0 feed. You can skip to the end and leave a response. Pinging is currently not allowed.
One Response to "The Tradition of Forgiveness and other Customs for Idul Fitri in Indonesia"
Oma Colleen Says:
September 5th, 2010 at 10:19 pm

I am part of the first group of Peace Corps volunteers in Indonesia. Thank you so much for your information!
Leave a Reply