The Sky Was – By E.E. Cummings
November 17th, 2012
Here's the colorful poem "The Sky Was" by E. E. Cummings (1894 – 1962) with an mp3 recording…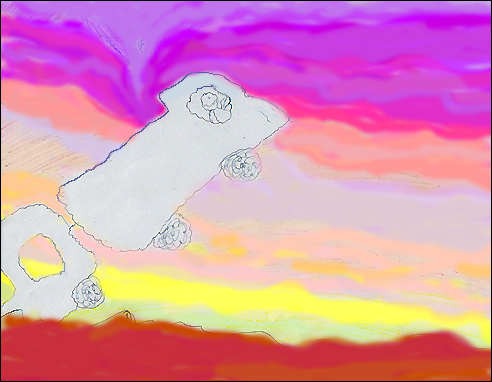 The Sky Was

the
     sky
           was
can    dy    lu
minous
            edible
spry
        pinks shy
lemons
greens    coo    l choc
olate
s.
  un    der,
  a    lo
co
mo
      tive        s  pout
                               ing
                                     vi
                                     o
                                     lets
Read by Christina Zhu.
Here's a 2nd rendition by loubet.
Drawing by Lila Pomerantz with Mama Lisa.
This article was posted on Saturday, November 17th, 2012 at 9:10 pm and is filed under Arts and Crafts, Canada, Countries & Cultures, E. E. Cummings, England, English, Illustrations, Kids Drawings, Languages, MP3's of Poems, Poems, Poems about Nature, Poetry, Poets, Recordings, Recordings of Poems, USA. You can follow any responses to this entry through the RSS 2.0 feed. You can skip to the end and leave a response. Pinging is currently not allowed.
Leave a Reply