The National Jukebox Online – 10,000+ Free Streaming Recordings of Music from 1901 -1925
July 16th, 2011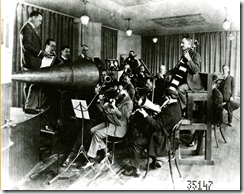 10,000+ historical sound recordings are available online for free at the National Jukebox at The Library of Congress. The Jukebox includes work issued on record labels now owned by Sony Music. Sony granted the Library of Congress a gratis license to stream these acoustical recordings. Most of the recordings were made by the Victor Talking Machine Co. between 1901 and 1925. The National Jukebox will be adding additional pieces on a regular basis.
The recordings include old songs by Sousa's Band, The Fox Trot, Ragtime, Early Tin Pan Alley and some Irving Berlin Songs.
Enjoy!
Mama Lisa
This article was posted on Saturday, July 16th, 2011 at 12:17 pm and is filed under Music, Recordings, Recordings of Songs. You can follow any responses to this entry through the RSS 2.0 feed. You can skip to the end and leave a response. Pinging is currently not allowed.
Leave a Reply