The Many Versions of Frog Went A Courtin'
May 12th, 2007
I've been having a lot of fun researching the history of the popular song Frog Went A Courtin'. There are many versions. It originated in Scotland over 450 years ago. There's also a well-known British version called A Frog He Would A-wooing Go, which I've written about previously.
This song has also traveled around Canada and throughout the US. Along the way, many versions have cropped up – some with different tunes and names. One is called King Kong Kitchie Kitchie Ki-Me-O, while another is called Sing Song Kitty (Won't You Ki-Me-O).
I think it would be interesting to collect and post different versions on Mama Lisa's World. If you know any versions of King Kong Kitchie Kitchie Ki-Me-O or Sing Song Kitty, or any interesting variations of Frog Went A Courtin, please comment below.
We always welcome recordings if you'd like to sing it!
Thanks!
Lisa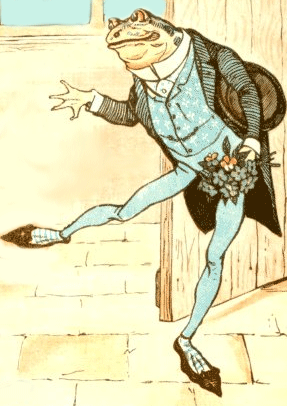 This article was posted on Saturday, May 12th, 2007 at 6:06 pm and is filed under A Frog He Would A-wooing Go, American Kids Songs, Australia, British Children's Songs, Canada, Canadian Children's Songs, Children's Songs, Countries & Cultures, England, English, Frog Went A courtin', King Kong Kitchie Kitchie Ki-Me-O, Languages, Questions, Sing Song Kitty, There Was a Frog Lived in the Well, United Kingdom, USA. You can follow any responses to this entry through the RSS 2.0 feed. You can skip to the end and leave a response. Pinging is currently not allowed.
150 Responses to "The Many Versions of Frog Went A Courtin'"
Leave a Reply