Nursery Rhyme Illustrations
May 5th, 2009
I've just started adding illustrations from The Only True Mother Goose Melodies to my nursery rhyme site, Mama Lisa's House of Nursery Rhymes.  This book was published and copyrighted in Boston in 1833 by Munroe & Francis.
All the rhymes from the book are already part of the site.  So it's nice to add these classic illustrations.  They look like they were done as block prints.  Here you can see their version of Baa Baa Black Sheep…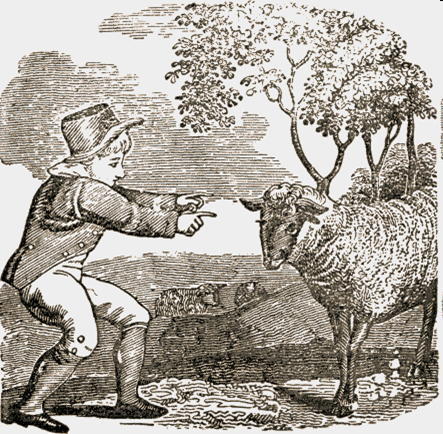 Baa, baa, black sheep, have you any wool?
Yes, marry have I, three bags full,
One for my master, and one for my dame,
And one for the little boy that lives in the lane.
I'll try to pick out some of my favorites and post them here as I go through the illustrations.
Hope you enjoy them!
Mama Lisa
This article was posted on Tuesday, May 5th, 2009 at 9:13 pm and is filed under Arts and Crafts, Books & Stories, Countries & Cultures, England, English, Illustrations, Languages, Mama Lisa, Nursery Rhyme Illustrations, Nursery Rhymes, The Only True Mother Goose Melodies, United Kingdom, USA. You can follow any responses to this entry through the RSS 2.0 feed. You can skip to the end and leave a response. Pinging is currently not allowed.
Leave a Reply