The Día! Diversity in Action 2013 Celebration
March 26th, 2013
Our friends at DIA asked us to post this message about their program…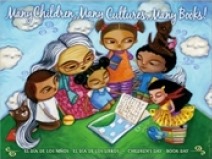 The Día! Diversity in Action 2013 Celebration is only a month away, have you registered your library or school's program yet?  Register your Día Celebration in the 2013 Día National Program Registry to build a national database that showcases all types and sizes of Día programming and receive free bookmarks, stickers, and buttons!
Visit the Día website at http://dia.ala.org to learn more about how you can celebrate diversity and connect children to a world of learning through books, stores and libraries.  Explore and download the free bi-lingual Día booklist, poster and resource guide to help make your program a success!
Día is a daily commitment to linking children and their families to diverse books, languages and cultures. The celebration is intended to be year-round, culminating on April 30th.
This article was posted on Tuesday, March 26th, 2013 at 9:29 am and is filed under Reading, Recommendations, Teaching. You can follow any responses to this entry through the RSS 2.0 feed. You can skip to the end and leave a response. Pinging is currently not allowed.
Leave a Reply