The Best Way to Exchange Money for a Trip Overseas
April 1st, 2008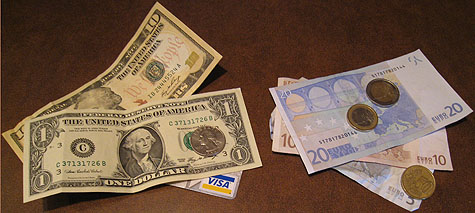 We just returned from a trip to Europe. We toured around France, in the areas of Provence in the south and Paris. We learned some important lessons about dealing with money overseas.
First, before you embark on your trip, make sure you tell your credit card company and bank when you are going. This way, when you use your ATM card or credit card overseas, they will know that the charges are authorized and not think that your card has been stolen. Otherwise, they might put a hold on your accounts!
While you're on the phone with the bank and credit card company, ask them what their charges are for using the cards overseas and also what their current rate of exchange is. This way you'll know how you'll get your best rate. Most people will tell you that the best thing to do is to charge everything. This may not be the case for you. It wasn't for us! Our credit card company charges us a 3% fee on all credit card purchases overseas (regardless of whether or not we pay our bill on time). Meanwhile, our bank charges us 1% of money withdrawn from ATM machines overseas.
It appears that most banks will only allow you to withdraw an equivalent amount of $500 US dollars per day. Also, you may be charged a fee for the ATM machine you're using overseas.
Whatever the current exchange rate is that you read in the newspaper, you can expect to pay a little more.
We converted some money to euros before we left. Many people do this at the airport, but we were traveling with our young daughter, and lots of bags, so we didn't want the added pressure of one more thing to worry about before or after the flight. My husband works in New York City, so it wasn't too hard for him to find a place to make the conversion there, a few days before we left.
The rate of exchange we got was $1.62/euro (which was worse than the then current rate of $1.55/euro). Plus there was a flat fee $5.00.
That rate was better than what you'll get in many cases at a currency exchange place in Europe. One that we found had an exchange rate of $1.77/euro if you're exchanging less than $500 and $1.65/euro if you're exchanging more than $500. Plus they had a surcharge of 6%. That's a rate you'd want to avoid!
We were never able to find a bank in southern France that exchanged money. The truth is that we didn't want to spend our whole days searching for one. Also, in southern France, many businesses close at lunchtime from 12 – 2 pm making the task more difficult.
Even in Paris we had a hard time finding a bank to exchange dollars into euros. Finally, once we ran out of the euros we had brought from the US we used our ATM card to withdraw more and in a pinch we used our credit card.
If you're planning on traveling overseas in the future, I'd recommend exchanging some money before leaving on your trip. The rate might not be great, but it will most likely be better than or equal to what you'll find overseas. Otherwise, depending upon your bank's policy, you'll need to decide which is the best course of action for you.
For further reading, here's an article on the same subject by CNN called Choosing the Right Currency for Your Trip.
7 Responses to "The Best Way to Exchange Money for a Trip Overseas"
Leave a Reply